Cougars' Tales

Issue Number 10 - Winter 2002

Camden High School's Electronic Newspaper
Editor Tom Rose, Class of 1974 - Post Office Box 881 Los Gatos CA 95031
Email trose01@telis.org - Camden Web Site: www.camdenhigh.com
Issue available at http://www.cougarstales.com
Happy Holidays!
<![if !vml]>

<![endif]>
<![if !vml]><![endif]>
San Jose Steel Spells Noel
Beginning in the 1960's until a change in name ended the practice in 1987, San Jose Steel Company proclaimed its Christmas cheer with a simple modification of it's seventy foot long sign.  By lighting only the letters N, O, E and L, the location produced a simple and tasteful toast to the season. The idea came from a man doing maintenance on the neon sign. The seven-foot tall letters were easily seen from drivers passing by on nearby Highway 101.  Current owners H & H Property are not sure who initiated the practice but to many it was a welcome holiday sight for many as they commuted to and from work on the busy road.  Current residents Monarch Trucking removed the neon tubes from the sign and simply painted their name on the signs surface. The building itself will soon be scheduled for demolition to make way for a BART station.
In the 1950's Helicopters were a rare enough site to draw a crowd, particularly when one of the passengers was Santa Claus.  Many shopping centers used the whirlybirds to deliver the cheery fur-clothed one to their locations during this time.   In this photograph a Marine officer greets Santa as he exits the copter at Valley Fair shopping center in 1959.  The Marines were on location promoting their Toys For Tots drive at the then three-year-old mall.
Camden Foundation Sponsors Child Trauma Event <![if !vml]><![endif]>
<![if !vml]>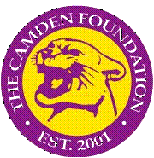 <![endif]>The Camden Foundation produced its first event, a presentation by Dr. William Steele, on methods of helping children suffering from trauma.  Included in the audience on December fifth were many people who work in the community as teachers, school administrators and counselors.   The foundation offered this program free of charge. Participant response was enthusiastic, with many expressing an interest in attending a seminar by Dr. Steele to be held in June. 
Dr. William Steel, the founder and director of the National Institute for Trauma and Loss in Children, works to develop skills for those working with young people who have suffered emotional or physical trauma.  Besides bring the author of numerous publications on subjects including teen suicide prevention, working with families in crises, trauma response violence prevention/intervention and developing nationally distributed video programs on these subjects, Dr. Steele was one of the first Americans selected to provide trauma and loss training to Kuwait's first counseling group following the Gulf War in 1993.
For more information on Dr. Steele and his training program see the website of the non-profit National Institute for Trauma and Loss in Children at http://www.tlcinst.org/.
In addition to events such as this The Camden Foundation awards an annual scholarship to a high school student who attends a school in the Camden High area. For information on how to join the Camden Foundation visit their website at www.camdenfoundation.org.
<![if !vml]><![endif]>Dennis Craig's

Wedding
10-12-02
This report brought to you by Mr. Herman Osorio, former Camden faculty member
Dennis Craig, former Camden High School social studies teacher and currently a real estate broker, was married to Ann Askew on October 12th at 3:30 PM at Lover's Point Park in Pacific Grove. Attending were Ann's two daughters, her son and Dennis's son Gary. The minister who conducted the brief ceremony was a former Camden colleague, Herman Osorio.

The bridal party then drove via limousine followed by several friends to Santa Cruz where a reception was held at an East Cliff Drive home of a long-time friend.

There's not much more to say except it was a real beautiful day for a wedding...lots of sun and such a great location as well. 
No Longer With Us
Patty Ayers, Class of 1972     
These thoughts provided by Patty's siblings Rita ('69), Carol ('73), Mary ('77), Rob ('78) and Terri ('80).
Patty was so many things to so many people. Most importantly, she was herself - genuine, loving, caring, smart, witty, thoughtful and lots of fun.
Family was important to her.  Particularly her children Jennifer, Brian, and Danny, the greatest gifts Patty received in this life and also her greatest gift to the world. Her husband Jim was the love of her life. Patty was truly happy.
<![if !vml]>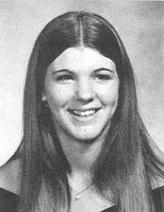 <![endif]>
Community was important to her. She gave of her time and energy to her adopted community of Orangevale. Patty had a great love for the people in her life and a way of bringing together people who wouldn't have come together otherwise.
Two and a half years ago, when she first got news of her illness, that sad news was followed by a huge miracle - the gift of more time. She put these last couple of years to great use.
<![if !vml]>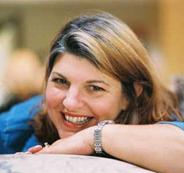 <![endif]>
Patty has passed from this world, but her love lives on in each of us who knew and loved her.
Diana Herbert Gilroy, Class of 1965
<![if !vml]>

<![endif]><![if !vml]>

<![endif]>Born Diana Lynn Herbert on March 31, 1948 in Watsonville, died October 27 of this year.  She attended Mintie White Elementary in Watsonville before moving to Campbell and attending Camden. She married John Frank Gilroy of Campbell with whom she had three children.  Diana was a religious person, active in the Christ United Presbyterian Church of San Jose and later the First Presbyterian Church in Redding, where she lived for ten years.  She bred, raised and showed Great Danes for many years, then switched to poodles.  She leaves her three children and five grandchildren behind.
Russell (Rusty) Terry, Class of 1969
<![if !vml]>

<![endif]>Passed away December 12 of this year.   Death came from complications related to diabetes.  According to longtime friend and neighbor Jim Votano ('71) Rusty "died quietly at home with his wife Debbie and son Russell present."  Russ traveled throughout the world as an engineer with the General Electric Nuclear Division performing troubleshooting and updating reactors.  He was a well respected in Northern California as a Harley Davidson engine builder and custom motorcycle builder.  The Ghost Mountain Riders Club, of which he was a member, held several benefits the last few years helping to raise money during his time of illness.  Services were to be held at Foxworthy Baptist Church on Foxworthy Avenue in San Jose.
Camdenites Serve Their Communities
<![if !vml]>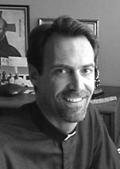 <![endif]><![if !vml]>

<![endif]>Greg Bonfiglio, Class of 1977, Named Pres of Jesuit High
Father Gregory R. Bonfiglio ('77) has been named president of Jesuit High School in Sacramento. His promotion was effective Aug. 2002. He "will serve as CEO overseeing the day to day business and development functions with responsibility for the more than $10 million budget to operate the 43 acre campus school which currently enrolls a diverse group of 1,000 young men from throughout the greater Sacramento area."  The school is in the Carmichael suburb of Sacramento.  While at Camden Greg was active in many extracurricular activities including CSF, varsity swimming, water polo, student council, Letterman's Club and served as Junior Class President (fall) and Treasurer (spring.)  He is a 1982 graduate of Santa Clara University.  He has a Masters degree from the Jesuit School of Theology in Berkeley and studied Spanish extensively in Guadalajara and Mexico City, Mexico.  While at SCU Greg became interested in competitive rowing and was inducted along with his teammates into the Santa Clara Athletic Hall of Fame.  He continues to row competitively as a member of both a Sacramento and New South Wales, Australia team. His Australian team recently won the Australian Masters National Rowing Championship. 
Ben Lopes, Class of 1966, Promoted To S.C. County Fire Chief
<![if !vml]>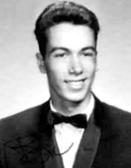 <![endif]>On May 8 of this year Ben Lopes took over as Santa Clara County's fire chief thirty years and five promotions after taking what he thought would be a temporary job.  After graduating from Camden High Ben went on college, graduating from San Jose State University with a business degree in 1971.  Economically, times were tough so, on the advice of a friend, Ben took a job as a Santa Clara Firefighter until his job prospects improved.  By 1976 he had become a captain, battalion chief in 1981, deputy chief in 1986 and assistant chief in 1996.  He has been serving as acting fire chief of the 300-firefighter force since his predecessor retired last December.  Over the years Ben has declined a dozen offers to head fire departments in other areas of California. 
In Ben's own words:
<![if !vml]>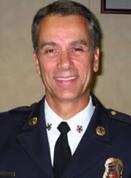 <![endif]>As corny as it sounds, high school really was the best of times and the worst of times, but every high school era probably feels the same way. We were sure of ourselves and ready to change the world, we just didn't know what we didn't know. We all share growing up in interesting times; the Cuban Missile Crisis, civil rights, the Kennedy assassination, Viet Nam, and the great music that reflected the times.
For me the fire department started as a temporary thing, between college and a 'real job.'  At the time I didn't know what I wanted to be when I 'grew up.' Thirty years later I consider myself lucky to work in this area for an outstanding fire department. I've also been fortunate to grow up with the community. It's a very rewarding place to be.

<![if !supportLineBreakNewLine]>
<![endif]>
| | |
| --- | --- |
| <![if !vml]><![endif]> | A great group of Camdenites, both alumni and faculty, get together every month on the sixth day at six o'clock at the Mountain Mike's Pizza on Old Placerville Road.  If you're in the area plan to join them.  This photograph taken at the December shindig shows just a few of the many who attended (photo credit Mary Ayers, class of '77.) Shown front to back are Herman Osorio (faculty), Principal Jim Crawford along with his wife Mary and Jackie Naud ('68.)   |
Magoo's

Christmas Carol Turns Forty
Many baby boomers grew up enjoying the adaptation of Dickens's 1843 story A Christmas Carol starring cartoon character Mr. Magoo.  What many don't realize is that this was the first Christmas special made for <![if !vml]>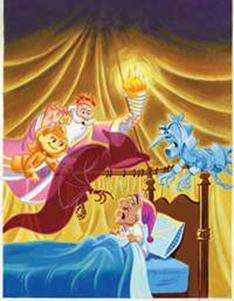 <![endif]>television.  Airing on December 18, 1962, the United Productions of America produced story was set up paradoxically as a stage production within the TV show.  Curtain closings between set pieces provided commercial breaks. These breaks were kept to eight minutes an hour by government regulations of the time.  Forty-three Magoo cartoon shorts were produced from 1949 to 1959, with two receiving Academy Awards.  A Christmas Carol was to be Magoo's finest hour. 
A fairly true adaptation, the special holds up well when viewed today.  Although minimally animated, the special featured catchy songs from hit-makers Bob Merrill and Jules Styne. It was also noted for its costar billing of animated character Gerald McBoing-Boing, normally a non-speaking character, which was voiced for the first time for the program.
The success of this program led the way for other animated holiday specials.  The stop-animation Rudolf the Red Nosed Reindeer debuted in 1964, with the truly wonderful Charlie Brown's Christmas first appearing in 1965 and Dr. Seuss's How the Grinch Stole Christmas in 1966.  Magoo's Christmas Carol continued as a holiday perennial on NBC for eight years, it is being presented this season in honor of the fortieth anniversary.
Cambrian Park Memory
Gary Lofgren ('60) brings us this Cambrian Park memory and also provided this rare photo of Scotty's, which was located in the strip shopping center on Union Avenue directly opposite the Cambrian Plaza.
 "Harry & Aileen Scott opened the business as 'Scotty's Ice Cream' in the late 40's or early 50's. They divorced shortly thereafter and Aileen, known as Scotty, ran the business until shortly before her death in the early seventies. They made
 their own ice cream and also sold bakery goods from the Willowette <![if !vml]>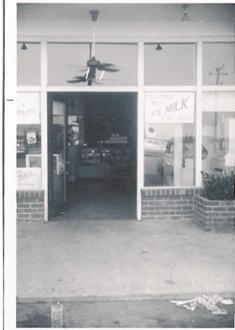 <![endif]>bakery in Santa Clara. There was a small candy counter with nickel candy bars and penny candy. As you look straight in the picture you can see one of the bakery cases,
 to the left of the door is the candy case. To the right of the door is a small freezer which contained what we called brick ice cream which is the same as you get in the grocery store today.
"The sign in the window for ice milk is what we call low-fat ice cream today. Our ice cream was 12% butterfat and the ice milk was 4 1/2 % butterfat. The sign on the left is for peach ice cream which means peaches were in season since
 it was made with fresh peaches.
 
 "People came from all over Santa Clara county for our hand-packed ice cream at or .45 cents a pint and  .85 cents a quart. Ice cream cones were five cents a scoop.  Business was great on hot summer nights; we would have folks lined up outside the
 door. As more and more chain ice cream stores opened business slowed so coffee and donuts (from the Kopper Kettle in Campbell) were added. Then in the late fifties, hamburgers, sandwiches, and a hot plate special of the day were added and the bakery cases were removed. Camden had two lunch periods and hamburgers were sold out the back window of the kitchen (for students only) in brown paper bags with some chips thrown in for 35 cents. I would work my lunch period either cooking or selling them.  Some times when it was real busy I would skip class and work during the second lunch period. I am certain that I gave the dean of boys, Mr. Maxfield many a gray hair; he worked very hard to get me through high school.
 Since I had a job I didn't see why I needed school.  If it were not for the diligence of Mr. Maxfield, Mr. Hanson, Mr. Allman and Mr. Chamberlain I would never have made it!
 
"The restaurant business grew and the ice cream business was soon all but eliminated. One of the waitresses bought the business (Blanch Rua mother of Judi & Fred both Camden graduates) and it became Blanches Kitchen. To my
 knowledge it remained a small but great little place to eat until it's closing. The buildings occupied by the restaurant and Cambrian Hardware next door were combined to become the liquor store located there now.
 
"I started there in 1952 at the tender age of 10 sweeping floors. I worked there part time during high school and college. My wages started at fifty cents a day then rose to $1 a day then $3 a day my final compensation was fifty cents an hour! I did everything from being a soda jerk, short order cook, waiter and ice cream maker; but making ice cream was the best job.
The class of '73 will want to reserve July 26 of this year for their 30-year reunion to be held at the Los Gatos Lodge.  Co-reunion chairperson Jackie Clark promises it will be "a huge event."  Please contact her at jclarktx@yahoo.com for more information.
Please contact the editor if you have information on the alumni sought.
Dorothy Grissom (who attended Camden for one semester in '64) is looking for Margaret Carnes ('65.)
Darlene Bowmen West ('65) seeks Judy Heath ('66) and Judy's sister Melissa ('67.)
Heard Around The Quad…
This column features excerpts from the Camden open email list.  To register for this mailing list go to www.camdenhigh.com. 
Dancing Fools
Darrell Ray ('66) posted, "I have been watching the turner classic channel on cable.  Every so often they have this show called Where The Action Is. I wanted to be prepared for the tri year reunion on some of the dances from back in the1960s.  At last years all year reunion I was asked to dance the swing style. Luckily it's like swimming, it comes right back.  I was trying to remember some of the really good ones. Let's see, it's Pony Time, the Twist, the Wa Wa Watusi, the Jerk.  Can anyone else thing of some I have forgotten? At the tri year reunion, keeping up with those fast songs when I was sixteen was a lot easier than at fifty-four. The dance floor was packed every song. I danced with a girl that went with me to record hop in 1963." 
Cindy Sutton (`65) added the Locomotion and Mashed Potatoes to Darrell's dance list.
Mini Bikes  
"I had a great visit with a class mate that while I was in seventh grade I used to go over to his house and ride his mini bike up and down the street. Remember, back then the mini bike was king." Darrell Ray ('66)
"I convinced my Dad to buy me one when I was 14. They were called "Doo Doo Bugs" back then.  It cost me $85.00, was red and had a four horsepower Briggs & Stratton engine. You had to keep the clutch lever pulled when you rode it.  My buddy Kayo Denton and I would ride that thing all over, with no helmets or license." John Holt ('65)
The "Gatiss Smudge"
"I had Mr. Craig for World Civ as well and really enjoyed his classes (when I was there). Had Mr. Gattis for Russian History.  Let me tell you, that was one class you definitely did not want to fall asleep in. He had the uncanny ability to hit you with an eraser from anywhere in the room and put it chalk side against your face. I saw many a student walking the halls with "The Gatiss Smudge". I honestly enjoyed his class. Mr. Gatiss always made it interesting. I respected him as a coach, teacher and personally." Carmen Russo '77
There Were Orchards Once
"When I was a kid we used to play in the orchards at the end of Quinto Way and Custer Way and the farmer who owned the orchards used to shoot his shotgun at us. It was usually loaded with either rock salt or soap chips. So stupid, we kept going back."  Gary Rott ('67)
Dalton Family Fan
"I remember many a day hanging out at the 'Church' - the Dalton family's home. Driving in the Checker. We could seat about a dozen people in that car. Some of my best memories (as foggy as they may be) are of hanging with the Dalton's. I remember moving up to Washington State and living with Rocky. He was so kind to put us up. I remember Kevin, Ken, Hilda & Al Chuck Aseeduwa? That crazy Indian, I wonder whatever happened to him?" Ed Foley ('73)
Senior Pranks
"Remember the annual tradition of the senior prank? All accomplished before the start of the school day for maximum effect of course. Let's see if y'all can recall a few:
How about 1977- all the student desks were removed from the classrooms and 'placed' on the roof of the school?
Can you place the year for the following? –
The statue from the muffler place, (was it Babe's Muffler?) was 'borrowed' and placed in the quad.
The pool was loaded with purple Fizzies (I think I got that right.)
Can you recall any more, come on and stretch that memory!"
Mike Robey  ('77)
<![if !vml]>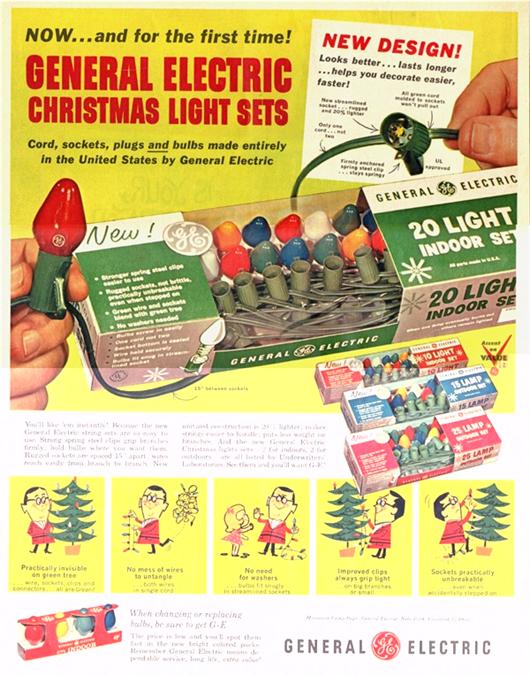 <![endif]>
"Remember the combinations were changed on all the school lockers? Mike Roe ('72)
Yes, I remember reading about that one. Some victims were spared if you were friends of the pranksters." Mike Robey ('77)
Yes
"The symbol for the music group Yes was painted in the main quad. And repainted after being removed." Mary Ayers ('77)
"Quite true, but the painting of the Yes symbol was less of a senior prank than an act of the 'Yes bench' - in front of which and by the occupants of same, it was painted. ;-)" Dan Carpenter ('78)
<![if !supportLineBreakNewLine]>
<![endif]>
"If memory serves me correctly the Yes emblem originated with a group of seniors from '77 and then during the summer it was covered up by the groundskeepers at Camden. In the fall of '77 a group of seniors from '78 repainted the sign, this time a bit larger and in a full circle in place of the rectangular one. Again, the school administration made a stink until some folks like Mark Teixeira ('78) and Bill Littel ('78), among others, contacted the San Jose Mercury News and had a reporter come out with camera. The story appeared in the newspaper with a group of Camden students who were dedicated Yes fans. The emblem remained throughout the '78 school year. I could be wrong but I believe Mark Teixeira presented a framed copy of the SJ Merc story to the lead singer of Yes, Jon Anderson, at a concert in Oakland that same year." Brett Welch ('78)
Junior High Tales
"I was spending the day putting some old family photos on CD and came across some of my old report cards from Ida price and I was wondering if some of you remember some of the teachers? Let's see reading Mr. Andrews - math Mr. Griffith and art Mr. Over. If my memory serves me right Mr. Andrews was real popular with the students." Darrell Ray ('66)
"A teacher I will always remember was our 7th grade science teacher, Mr. Bone. Yep, that was his name. Somehow I ended up with one of his photos; you know, the school pix we would exchange with our friends. Science wasn't one of my favorites, but he made the class fun -- and you wanted to learn what he had to teach. There was an English teacher, though I can't remember his name. I went to summer school one summer, and he was an eighth grade English teacher. He loved to read to us from Edgar Allen Poe, and gave us extremely strange vocabulary words, i.e. misogynist (a woman-hater, if I remember correctly). Now is that weird or what? I did enjoy my time at Price; I went there for 7th grade, but then to Houge for 8th grade. Too many changes for that age in my life! We were on split schedules with the kids from Price for the fall; I can remember having to catch the bus at Farnham at some awful hour, like 5:45.  I remember that it was way dark. We'd sometimes go to the 7/11 around the corner for hot chocolate, get back to Farnham, and STILL be waiting for the bus... Not a fond memory!"  Donna Traster-Albert ('71)
Paul Snow ('76) recalled Ida Price teachers Miss Sergeant, Mr. Phaff, Mr. Steiner, Mr. Troedson, Mrs. Duncan and Principal Phil Barone.
"Mrs. Jensen for History…yeah... Mizzzzzzzzzzzzzz Gray for math.....I still have nightmares...."  Bob Baker, '67
"Don't forget PE teacher Mr. Clayborn." Steve Salvador ('74)
"You must mean "Crazy Legs" Clayborn. I was told that he got the name in college while playing football." Kurt Nelson ('74)
The Five Spot
Downtown San Jose's now closed burger joint The Five Spot, on south First Street was remembered by a number of Camdenites .
"What I really went for were their Banana Royals. I have never tasted one like theirs since they closed."  Judy Clark Rarick ('66)
Me & Ed's & Slot Cars
"I opened one of my kitchen cabinets to appraise a refinishing job, whether I could just do the outer or if the inner needed work too. There was the recollection of old paper on the inside that I kind of remembered.  Anyway, I'm checking out the inner cabinets, and I come across this sticker. I'm trying to make it out, it's pretty worn, most of it is gone and there's paint over part of what is left.  Then it hits me. It's a menu for Me & Ed's Pizza. Prices are cool. Individual pizzas for around $1.10. Large for about $3.10. $.10 extra for take home! They've got a Friday special listed. Cool.  I kind of remember Me & Ed's, I think mostly from advertisements as my Dad wasn't big on pizza for us growing up (we made it at home with the Kraft pizza kits when we had it.) Anyway, does anyone remember where Me & Ed's was? Must have been fairly local to Willow Glenn (we live there now.)"  Ric Bretschneider ''74
"My brother's name was Ed, and we called that OUR pizza place."  Donna Traster Albert ('71)
"I remember one being on White oaks at the end of Casey Road. Many of you remember that Curtner Ave used to be Casey Road and you used to get on Hwy 17 at the end there. White Oaks went between Camden and Casey. I haven't been down there in a long time but I remember the building faced west and had a lawn mower shop in it for many years after Me & Eds.  There are still a few up here in the Sacramento Area."  Mike Brown ('74)
"Gardenland is the name of the lawnmower shop, and it's still there. When Me 'N Ed's closed Gardenland took over the whole building." Steve Scruggs ('75)
"Gardenland had a sign out for awhile that read 'Lawn Mower A Go Go, No Go We Fix'"  Ed Brick  ('74)
"Thinking of that part of town. Does anybody remember going down to the slot car track that was on White Oaks between Casey/Curtner and Camden? Boy we grew up in a cool time."  Mike Brown ('74)
"That was circa1965-66.  Too bad that fad didn't last as long as it should have.  What a blast it was to have your Dad take you down there and let you race your slot cars on those huge out-of-control tracks. Problem was that our fathers got waayyyy too into it for their own good -- my Dad completely burned out my whole set racing them with his buddies."  Mike Robey ('77)
"I remember it. It was in a strip mall on Camden just east of Casey Road approximately where the recently closed Carrows restaurant is now. At the time Casey road was aligned where the on ramp from westbound Camden to northbound Highway 17 is now. The big track (there were two tracks) had a 90 degree banked turn that reversed 180 degrees. Hit it too fast and your car would leave the track and smash into the wall."  Steve Scruggs ('75)
<![if !vml]>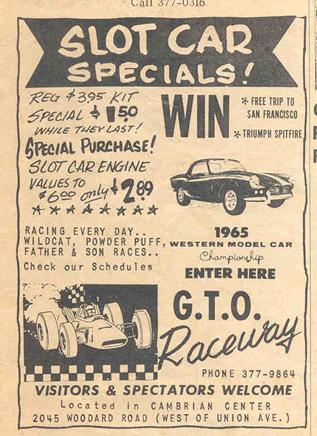 <![endif]>"I remember GTO Raceways.  Mike Rockhold and I use to go there most Saturdays when we could scrape up $1.50 for some track time. There was another slot car track I thought maybe in downtown Campbell or something that had a Loop in the track. It was maybe four lanes wide and if you took the wrong lane it had a short in the track and you would lose power and you car would fall near the top of the loop." Ken Rush ('72)
Guitar Showcase
"Hey, anyone remember when Guitar Showcase was located in an old house on Curtner, near the corner of Union Ave? There also used to be a Dairy on the corner too. I took guitar lessons there about 1967 or 1968. Not sure when they moved to current location on Bascom Ave near Camden."  Mike Robey ('77)
"I took guitar lessons there for a little while in junior high. I recall riding my stingray there, with guitar case balanced on the ever-so-cool front book basket."  Ric Bretshneider ('74)
"Guitar Showcase was on Jewell Dr. Around the corner where it is now. Had to be before 1961 cause it opened the summer of 61 on Jewell." Paul Snow ('76)
"I spend quite a bit of time there, John Sharkey of the Syndicate of Sound was my boyfriend."  Barbara Rogers ('66)

Prior to the current location at 3090 South Bascom, Guitar Showcase was at 2910 S. Bascom
Autumn Occurrences
"One year, either junior high or high school, I can't remember which, we had a Halloween Party. The only part I really remember is Dad was at work and was supposed to get home around nine so Mom told this spooky story and Dad was supposed to go to the back door when he got home and make this blood-curdling noise and they had the timing down really good. Well, we all knew about this but none of the guests did. So, Mom tells her story and of course, my Dad has perfect timing and lets out this blood-curdling scream and it is loud... sounds like he is right in the house.  Everyone, including the kids who knew about this, started screaming and crying... we were all so taken in by the story that we all believed it. O, you had to be there for the full effect but it is a Halloween I will never forget."
Cindy Sutton  (`65)
"Does anyone remember this? Harvest Hay Days was one of my favorite events they staged at Steindorf School. There was food, games and of course, the ever-famous Cake Walk.  For a dime you could get a whole corn on the cob dipped in a big kettle of melted butter. A nickel would get you a snow cone.  I would arrive at opening and stay till they closed it. And if I remember correctly it was held on the recess yard by the 6th grade classrooms." Ken Rush ('72)
Graduation
"So I was just thinking...  Does anyone remember doing or seeing anything strange at the graduation ceremony? I remember one big thing was to say 'Thanks Ernie' or something like that to Mr. Lee. But I do remember one other thing that happened at our ceremony.
This was during the early 70's, right, and herbal recreation was pretty wide spread. When the front few rows of students stood up, the ones sitting in the back decided to light up and created a large cloud of sweet smelling smoke, which drifted out to the audience. Now I of course, was not one of the troublemakers so I only watched all this go on. Anyone else remember any funny graduation moments?"  Ken Rush ('72)
"There were quite a few in the class of '71 who made peace symbols on the top of their caps with masking tape. That was the most scandalous thing I can remember."  Donna Traster Albert ('71)
"Graduation day for the class of '59 was very stately and official. In the dark ages of the late 50's the students as a group were certainly 'law abiding' for the most part that is. We had our class rebels but looking back we didn't dare do too much mischief."  Patty Harris Erickson ('59)
"I remember joints going back and forth. Also being passed around was a long plastic straw coming from a bottle someone had under their gown." Mary Ayers ('77)
"I really can't think of any thing .I just remember my mother telling me, 'Any funny business Mister and you will be a dead duck.'  She was always telling me stuff like that when I was in high school." Darrell Ray  ('66)
<![if !supportLineBreakNewLine]>
<![endif]>
"When we were in the stands at least two inflatable beach balls made the rounds, the smell of wacky weed was prevalent, and two rows below where I was sitting a 5th of vodka was being passed around." Steve Scruggs ('75)
Brass Rail
Sunnyvale's Brass Rail, the countries third topless dancing club when it opened back in 1960, was fondly remembered by a number of open list members, all male. 
"I ran into a girl from class of '75 or '76 that was dancing at the Rail.  Some coworkers and I used to go there for lunch on an occasional Friday. Her stage name was The Red Rocker."  Michael Cox ('73)
<![if !vml]>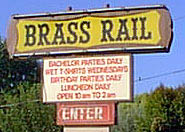 <![endif]> "I 'worked' at the Rail during the early 70's. Not as an actual employee, though. Every Friday, I would show up there a little bit after 5:00 pm. Sure as death and taxes, a bunch of engineers and project managers would come streaming in for their weekly 'party.' I would commandeer one of the pool tables, and the girls who worked there would shill for me. They would play up to the Lockheeders, making sure they got sufficiently stewed, then talk them into shooting pool with me for money. With impaired judgment and testosterone overload, they were usually eager to show off for the girls. They were also shamefully easy to hustle. At closing time, I would split half my winnings with the girls.
That was my living for a couple of years...and a damned good one it was, too. Then, when Sunnyvale passed that 'abysmal' <grin> law against live topless in bars, the Lockheeders pretty much stopped coming in. Either that, or their wives started noticing that their take-home pay wasn't quite what it should have been.  So, I had to go find a 'real' job, and I wasn't happy about that. And, looking back on it, that was one of the most enjoyable times of my life."  Larry Cone ('65)
Cruising First
"I was trying to remember which streets we used to take when we used to drag First Street. If I remember right we went up first to the far side of Saint James Park, then over to Second Street and then down to - can't remember that one.  Everyone would park in any empty parking lot they could find and check out the chicks going by.  When you came to a red light you would stand on the brake and hit the gas and make the tires squeal.  The girls loved it.  You could tell what school they were from by the high school sweaters.  I think they were called lettermen sweaters.  Any Camden High sweaters out there?" Darrell Ray ('66)
I remember the tire trick well. My dad never did figure out why the clutch went out on his Chevy Impala so quick."  Dennis Byron ('66')
"I think the street at the south end of the 'Main' was San Salvador, but a lot of the kids used to go clear to...oh, boy, another senior moment...that street where Second ended and you had to make a right and go back to First.  Anyone know the name of that little street?" Larry Cone ('65)
"It was a 1/4 block of Keyes between First and Second Streets and Goodyear ran west of First. Caldwallader Park was the triangle sliver between First, Second and Keyes." Mike Brown ('74)
"You know, I remember hanging out at McDonald's just off of Second Street.  Another thing was in the winter time rolling all the windows down and turning the car heater on full blast and still being COLD - but cool :) " Darrell Ray ('66)
End Remarks
Cougars' Tales is interested in your Camden and Cambrian Park story ideas; please contact the editor at trose01@telis.org. The editor is also looking for photographs of Camden High and early photos of the Cambrian Park area. Especially sought after are pictures of the burger joint across the street from Camden that closed in the mid-sixties and the trampolines that operated at Cambrian Plaza in the sixties. Special thanks go out to contributing editor Ric Bretschneider ('74) for his help putting this issue on the web. Thanks to John Wiley ('66) for creating the Camden web site and mailing list, and Ken Rush ('72) and Dan Carpenter ('78) for running the Camden mailing list. All articles and recent photographs by Tom Rose unless otherwise accredited.
This family Christmas card features Linda Lavoie Lane's family circa 1954.  Richard and Barbara Lavoie are seen with Linda in their home behind the Cambrian Park Plaza.
<![if !vml]>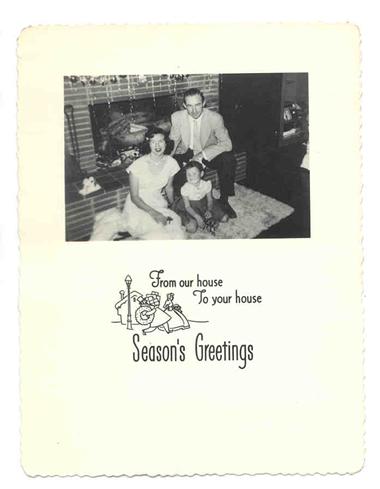 <![endif]>