Cougars' Tales
<![if !vml]>

<![endif]>
Issue Number 4 - Early Winter 1999
<![if !vml]>

<![endif]>
Camden High School's Electronic Newspaper
Editor Tom Rose, Class of 1974
Post Office Box 881 Los Gatos CA 95031
Email trose01@telis.org
Camden Web Site: www.camdenhigh.com
Wishing happy holidays to all our readers with best hopes for the coming year.
Time Capsule Remains Hidden Into The Millennium
<![if !vml]>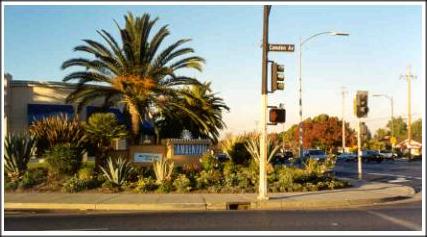 <![endif]>A time capsule, buried deep beneath the soil upon which the Camden High sign once stood, will go into the millennium unopened, it appears. When the Camden property was converted into a shopping center in 1990 the school sign at the corner of Union and Camden Avenues was replaced with the Camden Park sign pictured.   Ken Rush ('72) contacted us with his recollections of the burial, "I remember Cougars' Tales carried an article on the burying of the capsule and they asked each of the classes to put something in it.  I remember the current Cougars' Tales was placed inside."  Unfortunately, it is unknown exactly where it was placed and when it was to be exhumed. 
Mystery Photo Identified
Last issue's Mystery Photo contest, the curb named Casey Road, was correctly identified by Steve Scruggs, class of '75.  His well-written answer follows:
<![if !vml]>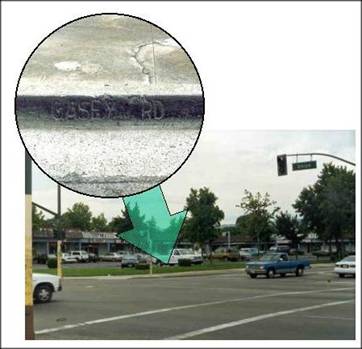 <![endif]>That imprint (see photo) is on the SW corner of Union Avenue and what is now Curtner     Avenue.  There was a Chevron service station on that corner when the concrete was poured.  Casey Road ran west from Union Avenue to Bascom Avenue, from Bascom to Camden it was East Casey until the early 1960's when the East was dropped.  It became Curtner in the late 1960's.  Although all homes and businesses have a Campbell address, they're in the County.  I lived on the street from 1957 to 1975.  During that time I had four addresses:  329 East Casey Road, 329 Casey Road, 329 Curtner Ave. and 417 Curtner Ave. and I didn't move once! 
Steve won the Camden High t-shirt for his answer, as well as thanks from the editor who was afraid no one would come up with the answer.  Two others got close, Mike Culcasi ('71) and his sister Barbara ('68) guessed the corner of Bascom and Curtner, only a block off and Mike Brown ('74) got the intersection correct, but not the exact corner.  Mike remembers the intersection well. The old drive-through dairy sat on the northwest, a Purity supermarket on the northeast, a Douglas service station on the southwest, as well as another gas station on the southeast corner. Mike recalled that there were no curbs in front of Cambrian school or the fire station across the street, so he figured our mystery photo had to be further east than Bascom.  He recalls buying wood for his first soapbox racer at Denny's Lumber Mart, a converted residence at the northeast corner of Bascom and Casey.  Thanks to all who entered, if anyone has an idea for a future mystery photo please contacts the editor. 
No Longer With Us….
<![if !vml]>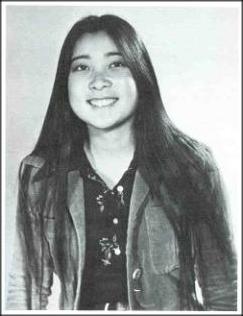 <![endif]>Sandy Kondo from the class of '74 passed away December fourth.  An active student at Camden, Sandy was well liked by faculty and fellow students.  She served as Girls' Athletic Association Commissioner in her senior year, was in Drama Commission, and was the first female at Camden asked to join the boys' tennis team (an honor she declined.)  She graduated with Honors and went on to West Valley College and SJSU, eventually graduating from UCLA with a degree in biology.  In keeping with her nature, Sandy was an organ donor. A local ceremony is being planned for January. 
Sandy's Sister-In-Law Nora Kelly provided the following information to Cougars' Tales:
At the time of her death, Sandy was living in Santa Barbara, where she had lived for the past seven years.
 After she graduated from UCLA, Sandy worked in the medical engineering field. She was an internationally renowned biomedical engineer, responsible for the design of balloon catheters, used for angioplasty procedures. 
She lived in a lovely home with her beloved dog, Sugar Bear.  Her interests were many - gourmet cooking, travel, diving, mountain biking, football, pool, wine collecting, and antiques and many more. 
She was loved and respected by hundreds.  At her "celebration of life", which was held at her home in Santa Barbara December eleventh, over a hundred people came - from as far away as Massachusetts and Hawaii. 
She is survived by her brother Lawrence (class of '72), nieces Christy and Katy, numerous Aunts, Uncles, Cousins and many, many friends and colleagues who will miss her terribly. 
Her sudden and unexpected passing saddens us all. 
Price Gets Theater & Gym After 30-Year Wait
Construction of a gymnasium and theater, planned for Ida Price in the fifties, has finally begun.<![if !vml]>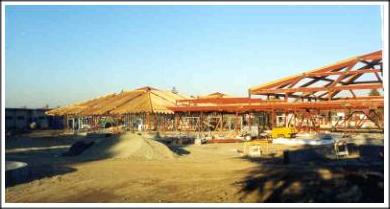 <![endif]> According to Steve Phillips of the Cambrian School District, initial plans for the building were shelved in the fifties due to lack of funds. Therefore the cafeteria had to be used for all three functions, as is the case with most grade schools in the area. The district purchased the land Ida Price Middle School was built on in September of 1956, with construction beginning in 1959 and classes commencing September 1960.  The Cambrian Community Center, as it's been named, is slated for completion in Spring 2000.   The new facility, to be named Cambrian Community Center, is slated for completion in spring 2000. It will be used by Price students during the week and local groups will have access during weekends.
Heard Around The Quad

 
News from the Camden Open List
Sixties Version Chat Room?
Camdenites remembered the old-fashioned "chat rooms", which consisted of a multitude of phone users connected together when dialing radio station KLIV.  It seems that by calling the request line after hours a "party line" like condition was created, with a dozen or so teenagers conversing at once.  This remembrance led to a discussion of favorite disc jockeys of that period.  Tom Campbell, Sean O'Callaghan, and Dr. Don Rose were mentioned as well as Wolfman Jack, a distant DJ with powerful signal strength.  Fred Allumbaugh ('68) recalled DJ Brian Lord from the mid-sixties, " I remember him because he's the one who hired my band, 'The Innocent Bystanders' to be the opening band when the Dave Clark 5 played at the San Jose Civic Auditorium."  While at Camden, Cheri Abbey (Kalsey) ('69) won a KLIV contest that sent her and a date to Disneyland and to The Forum to see the Jefferson Airplane. Her boyfriend was initially refused admittance to the theme park due to his longish hair. After hiding it in a hat and shaving his neck, they got in and there were the Jefferson Airplane band members roaming freely with their long locks. 
Class of '69 Reunion Draws Over a Hundred
The Class of '69's reunion held at the Beverly Heritage Hotel September 25'th, drew over a hundred people for dinner and dancing reports Cathy Clements Gonsalves.   A photo book of the event has been prepared so anyone who was not able to attend and would be interested in purchasing a copy ($15) please contact Cathy through Cougars' Tales. 
Video Footage of Camden's Last Hours
New list member Gary Waltrip ('62) recalled driving past Camden as it was being demolished and yelling "Damn you!"  Gary's brother Ted was there and he took some bricks as souvenirs and shot some videotape footage while walking around the school during the knock down.  His family had tied a yellow ribbon to the tree near the cafeteria in a hopeful gesture, but the school was not to be spared.  Gary is generously providing the Camden archives with a copy of this tape.
Camden Teacher's House Featured
List members remember well-liked Spanish teacher Mrs. Guy's house being featured in Better Homes & Gardens back in September 1978.   Michael Cox ('73) had an opportunity to visit the home in Saratoga in 1973 along with some other Spanish 4 students, and was suitably impressed. 
Camdenites Seeking Same
Cindy Thompkins ('65) would like Barb Volle or her sister Betty to contact her.
Mike Andrews ('72) would like to get in touch with Kit (Kittra) Dockstader ('72.)
Contact the editor for contact information. 
District Wants Your Reunion Info
Jack Reeves, former district graphic arts teacher located at Del Mar, now works at the Campbell Union High School district office and would like to have Camden reunion committees contact him so they can pass the information on to former students who call. 
Classmates.com "Spammed" by Camdenites
Former Camden students who had registered with the commercial site Classmates.com found themselves contacted by Patty Nisonger or the Editor.  Classmates.com had been more successful in collecting a list of registered Camden students than had Camdenhigh.com.  So, with a list of their email addresses, they were individually contacted and asked to visit Camden's very own web site.  Most did visit, most were not aware of the site, and many have registered.  Approximately 276 were contacted with about 20% bounce backs due to outdated addresses.
Camden Cartoonist Now Pro Artist
Cougars' Tales cartoonist Ray Buffalo ('77) is now a professional artist in San Francisco according to his ex-wife Cindy (Kihn) Santiago ('78).  Commenting on those old issues of the school paper, Cindy said, "Maybe someday those things will be worth something!"
Class of '80 Organizing Reunion
Camden's last senior class president, Jacque Bowman, is planning the Class of 1980's twenty-year reunion and would like help with mailing lists.  She is hoping to find Susie Swan and Midge Champaign, who planned their last reunion ten years ago.  Now a schoolteacher at San Ramon Valley High in Danville, Jacque is tentatively looking at next September for the reunion date.  If you have any information please contact the editor. 
<![if !vml]>

<![endif]>
Thanks much for the positive feedback many of you have sent to me the past ten months.  The new online Cougars' Tales premiered March first of this year and has been a learning experience for me. Special thanks to Ric Bretschneider ('74) for all his help and to John Wiley('66) for making all this possible.  I am hoping to involve more of my fellow Camdenites during the next year…please! We are always looking for stories dealing with Camden or the Cambrian Park area; so don't hesitate to come forward, your English teachers would be so proud! 
Next year look for these stories in upcoming Cougars' Tales!
The Billy Jones Wildcat Railroad charmed area youngsters in the fifties and sixties.
Cambrian Park Plaza, one of the first shopping centers in the county.
A local family's successful chain of Burger Pit restaurants.

   
Where Are They Now?

 

A series of articles on former students, faculty, and administrators of Camden.

 

Thrill to the then and now photos….
<![if !vml]><![endif]>
Cougars' Tales leaves off with this Mercury and San Jose News front section photo from January 1, 1972 featuring Camden class of '71 student Maureen Sherning.  Being washed away by the waves is the year 1971, etched in the sand of Natural Bridges Beach in Santa Cruz.