Cougars' Tales
<![if !vml]>

<![endif]>
Issue Number 5 - Late Spring 2000
<![if !vml]>

<![endif]>
Camden High School's Electronic Newspaper
Editor Tom Rose, Class of 1974 - Post Office Box 881 Los Gatos CA 95031
Email trose01@telis.org  -   Camden Web Site: www.camdenhigh.com
All Year Reunion Set for July 29th
Kathy Clifton, English/Journalism Teacher
Frontier Village Amusement Park
All Year Reunion Set for July 29th
Camden's annual event for all former students and faculty and their family members will be held on Saturday July 29 between eleven and four.  Held on the Camden practice fields on the Union Avenue side of the old campus, this is a no-cost event where people can drop by for a few minutes or stay all day.  Memorabilia from Camden's history, including every yearbook, will be displayed and a competition for the class with the best display will be held.  Music will be provided by professional disc jockey Rich Campbell ('66.)  Rich will be encouraging dancing on the grass, asking Camden trivia questions, and running sing-a-longs, so brush up on the Camden anthem. Last years popular photo-nametags, using yearbook photos combined with name and graduation year, will be back again this year for those who pre-register for the event.  The only thing you'll need cash for is for one of the cool Camden T-shirts that will be available for sale.  There is a potluck for those interested, and barbeque grills are available in the reunion area.  The old Camden pool will be open from 1:30 to 4:30 ($1 fee), so bring a suit.  Please note that park rules do not allow the consumption of alcoholic beverages.  For more information or to register contact Carmen Winters Rous ('67) at santacltr@aol.com. 
Kathy Clifton, English/Journalism Teacher
This is the first of a series of articles covering the past and current lives of former students and teachers.  Each upcoming issue will cover a faculty member and a student, letting us know what they have been up to since leaving Camden. I thought I would begin with my betters from my days on the Cougars' Tales staff way back in 1974 - my editor Karol Thompson ('74) and the Cougars' Tales advisor that year, then known as Kathy Clifton.
<![if !vml]>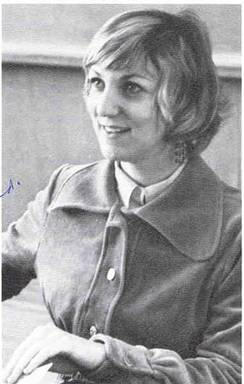 <![endif]>Fresh out of San Jose State at the age of 23, Kathy Clifton (now Kathy Nilsson) began her teaching career at Camden High.  Colleges at that time were turning out a glut of teachers at the time and finding a job would not have been easy.  However, Mr. Lee, dean of boys, had just married Miss. Freddie Markaway, Camden's journalism instructor, who then retired from teaching.  Now Camden needed a journalism instructor and Ms. Clifton was available. 
Kathy's mother was a teacher at Grant in San Jose.  Kathy attended Willow Glen High and graduated in 1964, she was a member of Yearbook Staff while a student.  Deciding to follow in her mother's footsteps, she attended San Jose University, studying English and advertising.  Her student teaching, American Literature, was completed at Menlo Atherton High.  As advertising majors at that time had to take many journalism classes for training in writing ad copy, this came in handy when she sought a teaching position.   Camden needed an English teacher who could handle the school paper.  Nilsson fit the bill and began in the fall of seventy-one.  A short-lived marriage changed Kathy from a Kalsched to a Clifton. 
For eight years Kathy taught English and oversaw Cougars' Tales.  A particularly memorable time was in 1974 when Camden had its own little Watergate-like incident.  Investigative reporters had uncovered a moneymaking scheme that went straight to the top of government, well, student government, that is.  As the paper was to go to press, Principal Jim Crawford, concerned about a possible lawsuit, demanded the story be replaced.  Student editor Karol Thompson refused, Kathy, unwilling to let the possibly libelous story go to press, compromised and the paper went to press with a large white space where the lead story belonged.  Complaints of censorship ensued, resulting in a trip to the principal's office for Kathy.
<![if !vml]>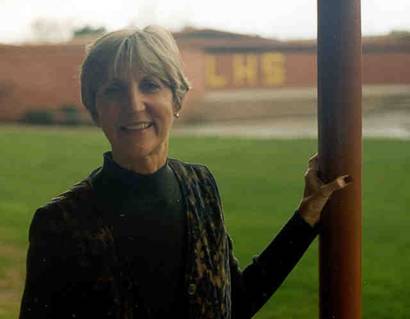 <![endif]>While on a vacation for five weeks in Europe to study journalism, Kathy met a Swede who was to become her second husband.  After their first son was born she stayed home two years; then with Camden closed she went to Leigh, pregnant with son number two.  The journalism position was already taken at Leigh, and she didn't want the long after school hours associated with it now that she had a family.  She first taught English, and is currently teaching Applied Living and Child Development (the modern equivalent of Home Economics.) 
Now single, Kathy lives in Santa Cruz with her two teenaged sons and her dog Savannah.  She is considering becoming a certified interior decorator, and would like to move to an ocean-view home, unlikely on a teacher salary, she says.  But what she would like to do most is develop classes for parents who are divorcing.  Working with young people affected by divorce, she sees a great need for instruction to provide parents with the tools necessary to assist their children through an already difficult period.  
<![if !vml]>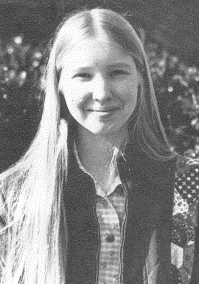 <![endif]>Somehow it doesn't seem odd that Karol Thompson, voted "Most Mysterious" by her class of '74 peers would someday become an expert in toxicology (the study of the harmful effects of drugs and chemicals on organisms.)  Karol cited feminism and molecular biology as two of the biggest influences in her life, this is not the average answer to that question I would imagine.
<![if !vml]>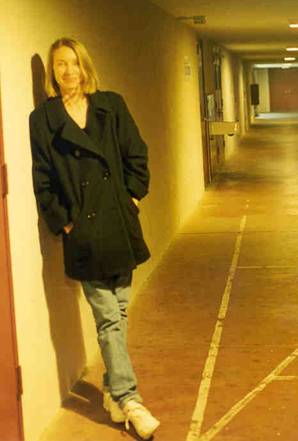 <![endif]>
Karol's family story is certainly typical for its time, they moved from the Seattle area to California in the fifties when her father's work with the U.S. Postal Service transferred him, first to Salinas, then to San Jose.  Karol's mother was a housewife. Karol attended Fammatre, then an "accelerated class"' for fifth and sixth grade at Bohnett, followed by Ida Price, before entering Camden. Karol's siblings Gary ('62) and Karen ('73) attended Camden as well. Being voted "Most Mysterious" (what would normally be "Most Shy") would come as no surprise to those who knew Karol.  Even though she was involved in extra curricular activities; first as a Trackette, where, Karol remembers, she "could pretend to be doing something important, taking down times and scores for the track events, while checking out the cute guys on the track teams."  An honor student, Karol became Cougars' Tales editor in her senior year, and placed second in the county in the Mercury News journalism contest.  Still, she had a hard time in high school, she considered herself "a wall flower" intentionally blending into the background. While editor of Cougars' Tales she was involved with a story that was censored by the administration. This controversy, combined with the "less than upbeat" editorials she sometimes wrote, resulted in Karol being informed she would not be receiving a school scholarship "due to her negative contribution to the school."
Things would change for her when she entered University of California at Santa Cruz. Karol enjoyed the accepting, counter-culture environment she found there.  Karol even had what she refers to as a "quasi-political adventure" while living in Santa Cruz. In the summer of 1978 she became involved with an anti-nuclear energy group and was arrested during a non-violent protest.  The three days imprisonment was "more like summer camp", according to Karol.  Leaving UCSC with a BA in Chemistry, she worked as a chemist for several years before going to graduate school at MIT in Cambridge, Massachusetts, where she earned a Ph.D. in 1987. Returning to California for post doctoral training at UC San Diego, she was subsequently hired by the Food and Drug Administration to work at their Washington, DC facility.  Now working for the FDA at the Center for Drug Evaluation & Research (CDER), Karol, as a molecular toxicologist, seeks to predict the potential carcinogenicity of pharmaceuticals.  Karol, along with her coworkers, received the CDER's Scientific Achievement Award for Excellence in Laboratory Science in 1998.   Of her work Karol says, "I fell by accident into a career that suits me personally, I have a more logical, than creative mind.  I like problem solving; figuring out the right experiments to do and how to interpret the data in order to have a better understanding of how drugs interact with the human body."
Living in Maryland, Karol enjoys her work, travel, and is a passionate movie fan.  She enjoys feeding the wild birds from her apartment overlooking a wooded ravine, and flies out annually to visit her parents in San Jose.  When last in the area she took in The Tech museum, pronouncing it "very cool", and she never misses a chance to purchase the produce at Cosentino's grocery. 
I put off visiting the Camden Park shopping center, the retail center built over Camden High's former grounds, for some months after completion.  It just didn't seem right, supporting this strip mall my alma mater had become.  But then, Burger King began their Toy Story figure give-away.  Forced by my significant other to get a Buzz and a Woody stuffed doll, I made my way into the fast food store only to discover, mounted on the restaurant wall, a plaque honoring the memory of Camden High.  You've got to hand it to these big burger chains; they know how to cover all the bases. "We know how important it is to establish and maintain good relations with the community," said Steve Group, local district manager for Burger King.  Keenan and Bariteau, developers of Camden Park, apparently created the plaque in 1990. For those straining to read the photograph, the plaque states; "From1956 to 1980 [Editor's note, correct start date would be 1955] Camden High School provided lessons in life and educated its students in the arts, sciences, athletics, literature, mathematics and community. 
<![if !vml]>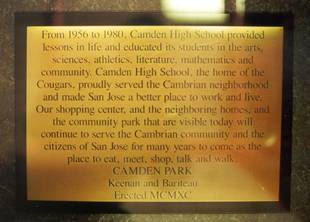 <![endif]>
Camden High School, the home of the Cougars, proudly served the Cambrian neighborhood and made San Jose a better place to work and live.  Our shopping Center, and the neighboring homes, and the community park that are visible today will continue to serve the Cambrian community and the citizens of San Jose for many years to come as the place to eat, meet, shop, talk and walk." A calculated appeal perhaps, but still a nice thought and apparently only Burger King saw fit to recognize the school. 
Highlights from the Camden Open List
Class of 1960, 1975 & 1980 - Start Those Diets!
1960: The Class of 1960 will host their fortieth reunion October 21'st at Lou's Village.  Graduates of Campbell and Del Mar High will be joining in, making this a three-school event.  Classes '59 through '62 are invited to join in the festivities, which will begin with a 50's car, show from 5PM to 7PM, followed by dinner and dancing. Contact Lloyd Gillespie at lgillesp@cuhsd.org for more information.
1975: The reunion is being held at the Westin Hotel in Santa Clara on June 24th. Details were not available at press time.  Contact trose01@telis.org for more information. 
1980: Those graduates of Camden's final year will want to link to www.homestead.com/camden80reunion/index.html for all the data on their twenty year reunion to be held Saturday, September 23 at the Wyndam Hotel in San Jose.
Changes At Ken Rush's Camden Site
If you haven't been to Ken Rush's Camden website in a while, mosey over there after reading this issue of CT's (http://home.earthlink.net/~judybeki/.)  Recently added are some photos from the 1961 yearbook, including one of a very young Ernie Lee when he was the school's bookkeeper.  A photo of the Cougar mascot proves the name Xavier (one assumes a play on the name of then-popular musician Xavier Cugat) was in use by '61. 
E-list Sign Up Now Easier
If you know any online Camdenites that still haven't signed up for one of the e-lists, tell them they have no excuses now.  Ken Rush ('72) and John Wiley ('66) reworked their Camden web sites, making it even easier to sign up for one of the Camden email lists, so no excuses.  We currently have 255 former students and members of faculty registered.
Camden Grads Official Numbers
The very nice Jack Reeves, former graphic arts teacher at Del Mar and now at the Campbell Union High School district offices, provided Cougars' Tales with the accurate figure of Camden's graduate numbers.  Camden opened in 1955 with freshmen and sophomore students only; the first grads were from 1958, the last year 1980.  Between those years 7,840 Camdenites received their diplomas.
Twice a Grad at Camden
Jim Young ('74) recounted his experience of attending Camden twice.  No, he wasn't an especially bad student.  After graduating from Camden, and San Jose State University, he returned to Camden in 1983 to train at the police academy that was located there at the time. 
Remembering Earth Day
On the thirtieth anniversary of Earth Day, a number of Camdenites recounted fond memories of the first Earth Day, celebrated on April 22, 1970.  Anne Leuschner Schuchmann ('69) was living in San Francisco at the time and remembers her family of two infants and her husband celebrating by wearing flowers in their hair and adding carrots to the Top Ramen noodles. "Lean times" back then, she says. 
Ed Seeks Photos
The editor is always looking for old photographs of Camden and the Cambrian Park area.  Of particular interest would be pictures of the burger place across the street from Camden that closed in the mid-sixties and photos of the trampolines at Cambrian Plaza. 
Fond Memories Of Fast Food
A question about the Dairy Bell that was located across from Camden in the fifties and sixties brought forth a flood of comments about it and other favorite Camdenite hang outs.  James Bickmore worked there before classes washing out milk cans.  You could get a Coke for a dime, for fifteen cents a burger, which was a very small patty on a bun with Thousand Island dressing.  Other places to spend money on junk food were; the Donut Wheel on Union where the Commonwealth Credit Union now lies; next door to that was the Burger Pit, now closed after a robbery/murder two years ago; a hundred feet from there was the Jack In The Box, new in 1967, a burger was 24 cents with a "secret sauce" that tasted suspiciously like mayo and ketchup mixed together; the Red Barn across from Cambrian Plaza on Union, now a medical supply store; the Dog n' Suds on Camden (where the Arbys is now located) where you could buy root beer by the gallon to go (classic sign of a dachshund with a mug of soda); the McDonalds on Meridian, one of the first in the area back in '65; and DiCenso's Italian food, now the Main Bar on Woodard. 
Online Photo Montage of Past Camdenite Haunts
<![if !vml]>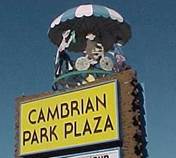 <![endif]>If you are out of the area you might want to see what's happened to some of the old Camdenite hangouts such as the Jack In The Box and Bob's Big Boy restaurants. 
Ric Bretschneider ('74) traipsed around town photographing the current image of many of these memorable spots.  Available at http://home.inreach.com/trose01/Camden_Memories/
Prune Pickers & Cot Cutters
Mike Cox ('73) was just one of those remembering days spent picking or cutting fruit as a summer job in the sixties.  "We made 40 cents for cutting a lug (40 pounds) of apricots.  We worked two weeks and made twenty bucks," Mike remembers. 
Rock & Roll at "The Continental" & "The Barn"
The Continental was a Santa Clara dance hall that used to be a roller rink. During the sixties and early seventies it was frequented by a number of our alumni.  In fact, Joyce (Cremona) Hayes's ('71) father owned the place for a time, she remembers the Doors even playing there in the sixties.  Class of '67ers Rick Green and Valerie (Waterman) Saenz brought up The Barn, which was a Scotts Valley site of rock concerts that even attained a spot in Tom Wolfe's 1960's book "The Electric Kool-Aid Acid Test."
Sixties Grads Sought For "Life Processing"
Former Camden teacher Will Finck is looking for Camden graduates from the 1960's to take part in a "life processing" group to discuss their lives and dreams.  Group members would discuss influences in their lives and their personal accomplishments.  He would like the group to be able to meet in Los Gatos one night a week for several weeks, with meetings lasting a couple of hours. Will taught Government, English, and Drama from 1959 to 1971, took a leave of absence, then resumed teaching as a special education instructor in 1974 till the school closed.   Interested parties contact Will at willfinck@hotmail.com.   
They Have a Website Too?
Ken Rush ('72) was wandering around his workplace when he noticed a fellow employee visiting the Del Mar website.  Cougar Ken found out he and the Del Mar Don even shared some friends way back then.  Ken was wondering if this means he should TP the rival's cubicle.
Recycling Camden As It Falls
Bob Cowden ('80) has a very special memory of Camden's passing.  It seems he and a fellow Camdenite got the idea of salvaging the scrap aluminum from the exterior shades used on the upper windows of Camden's classrooms before the site was demolished.  After two successful truck loads they started to dismantle the shades on the last row near the practice fields, formerly the shop classes.  As they were about to drive off with this last load, a construction worker from the demolition crew informed them that the last row of buildings was to remain.  The shades that took ten hours to remove took forty to reinstall during that hot summer week.  If visiting the campus, be sure to examine Bob's work.
More Donations To Camden Archives
Athletic programs and Cougars' Tales issues from the early and mid sixties were generously donated to the Camden archives by Beth Caplow ('66.)  Some items of interest culled from this material – Volkswagen stuffing becomes popular at Camden in '63.  That same year, sophomore students sold seat belts, your choice of color and installation included, for eight dollars.  All the hip female Camdenites were wearing parkas, colored leotards, and knee socks in sixty-four.  Camden's Hootenanny of January '64 was a huge success, selling over a thousand tickets at one dollar each to see twelve groups including The Cords and the Foggy Mountain Seven.  The Camden faculty joined with the entire show's roster for the finale, "Michael Rowed the Boat Ashore." A new musical group, the Beatles, receive mention in 1964 with Kathy Dahl proclaiming, "They sound OK, but they look silly." Chuck Fork added, "Man, they look like women."  Apparently the band managed to rise above such ridicule over time…
Former Camden Drop Out Now School Designer
The San Jose Mercury Sunday supplement "Silicon Valley" reported on Los Gatos architect Bill Gould, who dropped out of several schools, including Camden.  Bill eventually graduated from the University of Oregon and now works primarily on school designs.  Asked what the schools he attended looked like, he mentions Camden and describes the typical school architecture consisting of "finger wings, these wings of classrooms, with open corridors." 
(Email the editor for contact information)
Daniel Hernandez is looking for contact with anyone from the Class of '80.
Jim Blaisdell ('73) wants to get in touch with his old roommate Bob Rogers ('73.)  Donna Daleo-Sarazen ('68) wants to reestablish relations with Linda Cole ('67.)
Class of 1960 grad Ann Youngman Sevier seeks Gloria Ann Sparks Molaris, her best friend at school; Gloria has two brothers, Wayne and Michael, who someone out there may be in touch with.  Donnae Youngman ('78) is searching for Carolyn Beatrez and
Suzanne Vanderpool.  Sheri Leopard Kifer ('67) is looking for Diane Matts ('71.) 
Charlotte Coombs ('69) hopes to reconnect with Sherry Hardman ('69.)  Trini Forest, formerly Mary Ann Rasmussen ('64), would like to find Bob Bigelow ('62), C.G. Haskins ('64), and Sharon Corder ('65), hope they didn't change their names as well.  Last but far from least, former Camden teacher Will Finck is hoping to find these '63 through '65 Camdenites - Maggie Mitchell, Janet Hudson, Harriet Hoyle, Robin ('63,no last name), Mel Davis, and Clyde Campbell.
Frontier Village Amusement Park
In October 1961, on a heavily wooded site in South San Jose, a western –style amusement park opened.  Named Frontier Village, it's annual staff of 450 provided many Camden High students their first job experience (Camden and Leigh High together provided the majority of the employees in the early years.)  Built on the former site of Congressman Hayes estate on Monterey Highway, 39 of the 101 acres were used for the park; the rest was left in its natural state.  The park's founder and first general manager, Joseph Zukin, Jr., got the idea for the park from Disneyland's Frontierland, which had opened in 1955.  <![if !vml]>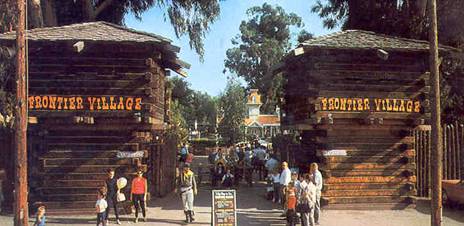 <![endif]>Once inside the Calvary-style fort entrance, complete with rifles mounted in the towers, one entered a world mimicking the television image of the old west, only with carnival rides.  On opening day the park boasted five rides; the Train Ride, Antique Autos, Merry-Go-Round, the Stagecoach, and the Burro Pack Train (shortly afterwards the Indian Jim's War Canoes began operating.)  The saloon featured banjo music and dancing girls, and gun fights between the Marshall and various outlaws were performed hourly.  <![if !vml]>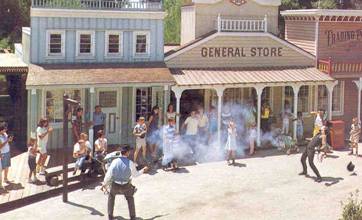 <![endif]>Over the years the number of rides and attractions increased to 24, including the replica schoolhouse, outfitted with authentic antiques, the Mine Ride and a Mystery Spot-like attraction called El Cito Mysterio. Amusement games and gift shops lined the main street of the replica Old West town.  In the early years, Indian Jim, a Native American, hosted tribal dancing on Indian Island.  The park also featured an 116,000 gallon trout pond allowing guests to catch fish for a price and have them cleaned and refrigerated while they enjoyed the park (one can imagine the fish-cleaning position was not a favorite with the student workers.) 
As in any small western town of the old west, a brave and true Marshal was a necessity.  Marshal Ron was the first, followed by the well-remembered Marshal Clyde, and then Marshal Westin took over the reins. In the last few years the Marshal's came and went seasonally, no one had the same dedication to the job it seems.  Even today the original three Marshals get together to talk about their adventures at the Village.  
Over the years costumed characters were introduced, initially the park's own creations; Theodore Bear, an old miner called Tumbleweed, and Kactus Kong, a lime-green ape.  In the later years the park obtained the rights to Hanna Barbara characters, including Scooby-Doo, Huckleberry Hound, Quick Draw McGraw, Yogi Bear, and Fred Flintstone.     
The park was created primarily to appeal to families with children age 12 and less and did a huge business as a site for company picnics.  Annual attendance was around 400,000 with its peak exceeding 485,000 guests. Although the demise of the park in 198_, often said to have been caused by the opening of the Great America amusement park in Santa Clara in 1976, there was actually only a small initial slump when the competing park first opened.  No, the reason for the fall of Frontier Village is a common tale here in Silicon Valley, property values and housing needs.  When the park opened it was "out in the boondocks" and had no neighbors to deal with.  Over the years suburban housing encroached and when park owners since 1973, Rio Grand Railroad needed to expand in order to remain profitable, neighbors and the City of San Jose balked.  The park provided solutions to many of the neighbors complaints; limits on ride heights, sound berms around the park, improved streets and access roads, but in the end the politicians of San Jose spurred on by the local homeowners, voted against allowing the expansion, sealing Frontier Villages fate.  Park ownership rightly reasoned it would be more profitable to sell the land for homes than to try to run the business at its existing size. 
Thanks to Allen Weitzel, former Frontier Village manager, for the information contained in this article.  Frontier Village post cards from the collection of Scott Rose.
36 Years Ago in Cougars Tales
<![if !vml]>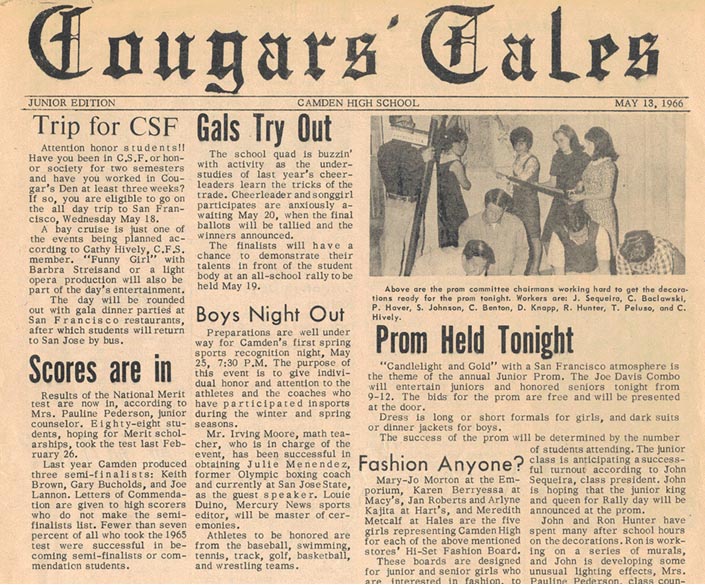 <![endif]>
End Remarks
Cougars' Tales is interested in your Camden and Cambrian Park story ideas; please contact the editor at trose01@telis.org.  The editor is also looking for photographs of Camden High and early photos of the Cambrian Park area.  Special thanks go out to Ric Bretschneider ('74) for his help putting this issue on the web, and to John Wiley ('66) for making all this possible. Black and white photos reproduced from Camden Yearbooks. All articles and photographs by Tom Rose unless otherwise accredited.