Cougars' Tales
<![if !vml]>

<![endif]>
Issue Number 6 - Winter 2000
<![if !vml]>

<![endif]>
Camden High School's Electronic Newspaper
Editor Tom Rose, Class of 1974 - Post Office Box 881 Los Gatos CA 95031
Email trose01@telis.org  -   Camden Web Site: www.camdenhigh.com
Issue available at http://www.cougarstales.com
<![if !vml]>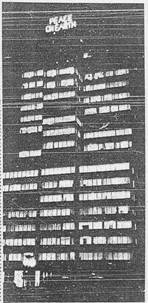 <![endif]>
Pruneyard Towers Lights Remembered
Christmas 1972 – Lights go on above the tallest building in Santa Clara County. The 18 story Pruneyard Tower building hosted a pair of signs reading "Peace on Earth."  These illuminated signs were 15 feet tall and visible for miles around.  Joe Dabagian, the then general manager for the Pruneyard, was quoted as saying  the sign was "symbolic of the peace effort" focused on the conflict in Southeast Asia. The sign was used annually through 1990 and was discarded for unspecified safety reasons.  It is fondly remembered by Camdenites as a sign of the holidays.
The many smiling faces and tearful reunions said it all at last Julys third annual Camden all-year-reunion.  From a start of only 13 former students three years ago this event has grown to include hundreds of former students and faculty.  Positive word-of-mouth, 150 flyers posted in the Cambrian area, and a blurb in San Jose Mercury's Leigh Weimer's column helped to get the word out about this years event.  Every graduation year was represented in the crowd on this hot summer Saturday as well as a number of faculty members including Mr. Craig, Mr. Osorio, Coach Marotti, and boys' dean Mr. Ernest Lee.
Rick Osorio('76), Herman Osorio
nursing shoulder injured
in crash, and Dennis Craig
<![if !vml]>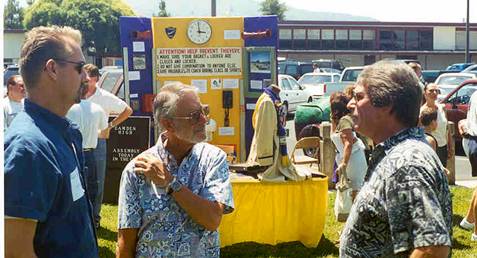 <![endif]>Camdenite and pro DJ Richard Campbell ('66) volunteered his time to play tunes from the fifties through seventies.  All cheered when Rich played Syndicate of Sound's "Little Girl", the hit song from a group whose members included several Camden graduates. After arriving on choppers Carmen Winters-Rous and husband Bill put in a long day as setting up and organizing the reunion and handling Camden t-shirt sales.  No doubt many memories were invoked by those who perused Scott Rose's ('74) impressive display of items from his Camden collection.  Among the many items were a class phone, band uniform and student locker number one.   
Many Camdenites trekked huge distances to attend the reunion.  According to Carmen Winters-Rous ('67)  Bev Green ('65), Joyce Cremona Hayes, and Joe Angula ('68) all traveled west from Texas, Judy Clark Rarick ('66) came from Ashtabula, Ohio, Donna Edwards Hoover ('65) from Kansas City, Missouri.  Loretta Brunsman Reese ('80) from Manesses, Virginia, and Mike Sanders ('75) from Boise, Idaho. But the prizewinner has to be Lance Holweger ('71) who came all the way from Kuroiso, Japan.
Special thanks to the volunteers who helped set-up and tear down; including Linda Lavoie Lane ('66), Bill Shepard, Mike Cox ('73), Gary Waltrip ('62), and Jerry May ('67.)  For more pictures from the reunion visit Allen Fronk's ('66) excellent website at http://www.photo1.net/camden2000/index.htm
<![if !vml]>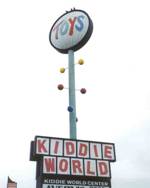 <![endif]>
For the first time in over forty Christmas seasons the aisles of Kiddie World Toys are quiet.  Instead of harried parents and wide-eyed kids there is an empty building soon set to be demolished.  The location will become the new home of Courtesy Chevrolet, itself pushed out of the its former location near the former Town & Country shopping center which in turn has also been demolished to make way for new construction.  Changes are constant here in hectic Silicon Valley.  Things were not quite so hectic back in 1954 when Avery and Dorothy Smith opened their first toy store, located at 1890 West San Carlos in the Burbank district of San Jose.   They moved across the street to larger accommodations (street number 1899) just in time for the Christmas season of 1956.  The <![if !vml]>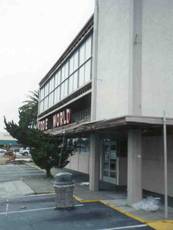 <![endif]>baby boom was fueling the need for toys and in 1958 they expanded the store to twice its former size.  In October 1960 they moved once again, this time to the store most locals remember, located at the corner of Stevens Creek Boulevard and San Tomas Expressway.  This toy store was huge by the standards of the time and had a giant window display fronting its second floor.  The store, with its easy street access, was very successful, and in 1962 other buildings were added to the center including a House of Blue Jeans and maternity shop.  By 1969 a second store opened in Sunnyvale and a third in Capitola in 1979.  Kiddie World saw competition in the form of Toys-R-Us but persevered.  Many of the children whose wish lists were created after visits at Kiddie World ended up shopping for their children decades later. 
Recently plowed site – Note Century Theater Dome in Background
<![if !vml]>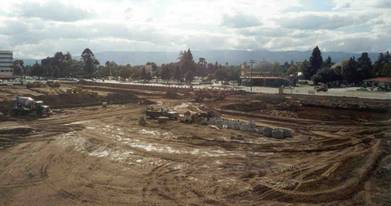 <![endif]>Once the epitome of a pleasant California shopping experience, with its 131 shops in its open air center complete with restaurants and a movie theaters, the rustic wood structures of Town & Country Shopping Center are a thing of the past.    The huge expansion of the Valley Fair shopping center ten years ago dwarfed the 350,000 square foot Town & Country and traffic slowed at the center.  Being constructed on the property Town & Country previously occupied is a new style center, to be named Santana Row, which will combine housing with
shops.  Described by its backers as "a main street urban village" it will feature 680,000 square feet of retail featuring shops, restaurants, a movie theater, and a gourmet grocery on the bottom floor with 1,200 apartments, lofts, and townhouses above. Parking for residents will be underground.  Santana Row will have curving streets to slow traffic and hopes to infuse a European feel to its shopping experience. 
<![if !vml]>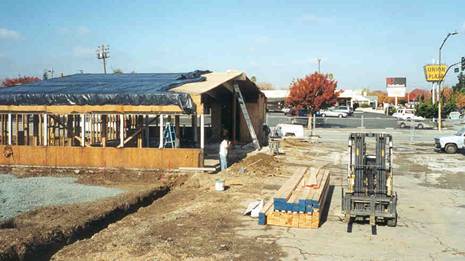 <![endif]>The Burger Pit on the corner of Union Avenue and Foxworthy was always a favorite of Camden students.  Opening in 1958, it served the many new families in the Cambrian Park area.  Al Berger, originator of the Burger Pit chain of restaurants began with the Burger Bars in downtown San Jose, the first opening on Friday March 13 in 1953. The Burger Bars were a favorite eating spot of students of San Jose State College (later University.) After opening two more Burger Bars between 1953 and 1956, Al moved up to full service restaurants beginning with the location in Cupertino in 1956 and eventually had a chain of 24 stores.  In the mid-eighties the Union location was sold and was open until the night of February 18, 1998 when the tragic murder of an employee during an armed robbery occurred.  The building lay dormant for some time, and although work commenced two years ago to convert it to a day care center, the work was never completed.  The site is now being converted to an adult training facility that will specialize in assisting older adults in changing careers.  Al Berger passed away in 1998, his son Paul now manages the single remaining Burger Pit located at Blossom Hill Road and Kooser.  The original Burger Bar at First Street and Goodyear is still owned and operated by the family as well.  The Union Avenue location was not one of the stronger restaurants for the Berger's, Paul said, "it did OK business, but it should have been on Camden."
Ida Price Gets Long-Promised Gym
<![if !vml]>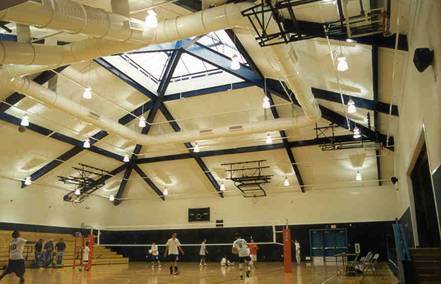 <![endif]>
The Cambrian Community Center, located on the grounds of Ida Price Middle School (formerly Junior High), opened September 14 of this year.  Built at a cost of over six million dollars, this new facility will include gymnasium and theater functions.  As reported in Cougars' Tales issue four, the original plans for the school included such a building but lack of funds in the 1956 school construction led to its being shelved. 
New Science Wing at Price Middle School
<![if !vml]>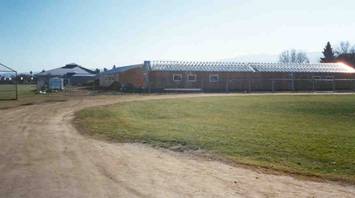 <![endif]>Maybe someone at Price hears Sarah Winchester's mournful cry, "Keep building…"  Yes, after finishing construction of the community center only last spring, more work is being performed on the middle school campus.  Two new buildings adding five science classes are being built on the Curtner side near the track. Work is expected to be completed by June of next year. 
Heard Around the Quad-Winter 2000
Excerpts from the Camden High Open Mail List
Camden's king of the mailing list, Ken Rush ('72) and family, visited Honduras for two and a half weeks on a charitable mission to replace homes lost to Hurricane Mitch.  "What a rich experience it was," stated Ken, "Conditions were poor, and very difficult. We have so much and they have so little, yet it seems that they are the happier people."  Photographs of Ken's trip are available at www.vcc-livermore.com/honduras. 
Well-loved Camden teacher Herman Osorio lost all his material possessions in a fiery crash of his U-Haul truck while moving from San Jose to Sacramento.  Luckily he sustained no injuries other than a sprained shoulder and was his property was insured. Unfortunately many personal possessions such as his diplomas were lost to the fire.   
Warren Roberts ('58) remembered the early days of surfing in the 1950's.  Skateboards, albeit in the crude form of a piece of 2x4 lumber with skate wheels nailed to it, also came to his mind, "I vividly remember being shown this new invention at Santa Cruz in 1958 and it was really bitchen man," wrote Warren.
To Fred Allumbaugh ('68), then an eleven year old at home alone, the huge explosion of the Sherman Oaks bowling alley on Bascom Avenue the evening of Wednesday February 22, 1961 seemed like Khrushchev had dropped the big one.  In actuality, Sherman Oaks owner Nick Bebek, whose son Mike went to Camden, was having the floors re-lacquered and, due to poor ventilation, a pilot light ignited the fumes.  The alley was destroyed and windows were broken for blocks around but miraculously there were no injuries.  There were rumors that the destruction was deliberate as Bebek had just opened the Futurama Bowl, but these were never proven.  The alley was located in the area Streetlight Records now occupies.
Waltrip Music owned by Gary Waltrip's ('62) father, sold equipment to a number of up and coming bands in the sixties including Jefferson Airplane, The Chocolate Watchband, and Credence Clearwater Revival. 
An excellent website covering the Frontier Village amusement park, once located in San Jose on Monterey Road can be found at www.frontiervillage.net. 
The vision of a rural Cambrian Park must be a tough one to conjure up for more recent inhabitants.  Brett Welch ('78) remembered the racket caused by chickens when he lived on Bascom Avenue.  Neighbors had horses and other livestock as well.  Bascom was lined with small farms including the Mayeda Egg Farm, located on Bascom Avenue near Woodard.  It was owned by the family of Camden students Ron ('61) and Peter ('62) Mayeda.  This discussion led to another on the drive-through dairy then located at Union and Curtner and of buying bottled milk from the Texaco Star & Bar on Union Avenue
Valerie Saenz ('67) brought up seeing the Beatles in concert at the Cow Palace.  Numerous other Camdenites remembered seeing the group either at one of their Cow Palace appearances or at Candlestick Park.  Betsy Pierson's cousin was local rock DJ Shaun O'Callaghan, which meant she got tickets to the big events including The Rolling Stones at the Montgomery Theater in San Jose.  She even visited the beauty parlor prior to the event, only to ruin it by pulling at her hair during the concert (she also remembers what she wore, talk about significant moments…)  
8mm
Rick Green ('67) discovered his family's home movie footage of the Camden marching band performing on Hamilton Avenue circa mid-sixties.  Ken Rush converted the four minutes of footage for viewing via the web…old tech meeting new.
Gary Waltrip has established a very nice website with photos of Camden memorabilia including Student Body cards and a Camden parking window sticker from 1961.  He has also begun scanning the entire 1959 yearbook, quite a feat.  Go to http://photos.yahoo.com/cougar1962.  At this site he also has some interesting shots of The Beatles landing at San Francisco Airport in 1964.  Allen Fronk's site at http://www.photo1.net/camden/ includes a set of photographs from the 2000 all-year-reunion as well as links to the other Camden sites. 
Terry Gray ('82 Branham) brought up Gemco and the prize tickets given for returned shopping carts. Many others had fond memories of this discount store, now the site of the Target on Hillsdale Avenue.
Linda Lane ('66) and Cindy Muir ('69) were two of the many females who complained of the black bathing suits used for gym class; also many comments regarding male teachers strolling by.  The fit of the suits was apparently lacking, which was especially embarrassing during coed swimming.  The heated floors of the locker rooms also came up for complaint, apparently
8-Tracks
"Kids now can't imagine buying a recording that might not even survive its first playing." John Wiley ('66.) Yes, fond memories of eight-track tapes resurfaced.  In fact, the four-versus-eight-track argument discussion cropped up.  Four tracks preceded eight and offered more recording time, eight track was supposed to deliver superior sound quality.
Make Out Spots
Apparently a hot make-out spot for Camdenites of the sixties was the Los Gatos hills before housing was built on the lots. Lexington Dam was also mentioned.  The legend of the albinos, supposed creatures of the night located near the Cats statues of Los Gatos, came up during this discussion.
The gauntlet was thrown by Rusty Gonzales ('78), who drove the fastest from Camden to Santa Cruz Boardwalk. Various memories of demon speed runs were reported, many in the 20-minute range. Sherry Crossno ('65) describes one such ride with her friend Susie Rooney, "She drove from the Camden exit to (highway) 17 in 18 minutes.  She drove back in 17 minutes.  I had a '60 Ford with a good size V8 and we fishtailed around almost every curve.  At seventeen we thought we were immortal." 
Tough guys with greased back hair hanging around talking about girls and cars, sound like the movie "Grease"?  Nah, it's Camden's own blue jacket gang from the early sixties.  Doug Bull ('63) among others remembered the group of Camdenites who all wore blue nylon jackets along with pointed toe Flag Brothers shoes (taps optional.)  Rich Campbell ('66) was one of the groups members, "I remember it at least '62 through '66.  Standing on the bricks along the main hallway, makin' wisecracks to the girls that walked by."  According to Linda Lane ('66) "they would sit in the Camden parking lot after school and admire their cars and rev the engines, especially if a cute girl walked by." 
The great snow blizzards of '62 came up for conversation. Gary Waltrip's ('62) journal entry of January 21, 1962 read, "Today when I woke up I got the surprise of my life – it was SNOWING!"  This rare treat was not appreciated by Camden's faculty, who kept the students from playing in the snow. 
At one point it looked like everyone on Camden's open list was Portuguese.  Having begun with a discussion on the vegetable cardoni, numerous Camdenites came forward to proudly proclaim their Portuguese heritage.  Many regretted having forgotten language they had learned from parents or grandparents.   
Volunteers are needed to scan photographs at the Cambrian District offices (formerly Houge Junior High.)   A collection of historical photographs of the districts grade school and junior highs are displayed at the office.  By scanning them and putting the material on CD ROMs the material could be made available to all and would be assured survival (many of the photos are one of a kind.)   The district cannot provide equipment so you must use your own computer and scanner in the district office.  Contact the editor if you are interested in helping in any way.
A suggestion was offered by John Wiley ('66) to have a plaque made listing those Camden students who lost their lives in the Vietnam War to be displayed at the Camden Center.  Those with names for this project please contact the editor. 
Mary Ann Keeler
<![if !vml]>

<![endif]>A popular teacher of Spanish for twenty two years in the Cambrian School District, Mary Ann Keeler passed away September 14 in Antelope, California at the age of eighty-four. Mrs. Keeler taught at both Ida Price and Houge Junior High schools. After graduating from Orestimba High School in Newman in1933 Mrs. Keeler attended Modesto Jr. College ('35), UC Berkeley ('37) and University of Mexico City ('38.)  Colleen Clements Zacher ('71) remembered that Senora Keeler encouraged students to develop pen pals in San Jose, Costa Rica.  Colleen said her Spanish "was not that good, so she helped me translate letters for several years after that.  Great teacher, we need more like her."  She is survived by her four children and nine grandchildren. 
Jim Baughman
Popular Camden English and German teacher Jim Baughman, died of a heart attack in San Francisco September third, he was 47.  A graduate of Homestead High in Cupertino and Santa Clara University, he won Camden's T<![if !vml]>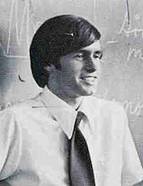 <![endif]>eacher of the Year award twice, in 1977 and 1978, and won the district honor in 1979.  He went on to become assistant principal of Live Oak High in Morgan Hill and principal of Leland High in 1985.  He served as assistant and deputy superintendent of the San Jose Unified School District before being appointed to the position of Chief at the age of 36.  Well liked and respected, many were shocked when; acting on a tip, the Mercury News discovered he had lied regarding a doctorate degree from Stanford.  He was charged with accepting bonus pay based on the doctorate and was later found to have stolen money from student body accounts while principal at Leland.  Mr. Baughman apologized and paid back all bonus pay and stolen money including interest.  He served four months of a year's sentence.  Most recently he resided in New York where he was vice president of recruiting for Lucent Technologies.
<![if !vml]><![endif]>Allen Fronk 1966<![if !vml]><![endif]>
Camden class of 1966 graduate Allen R. Fronk passed away suddenly at home November third.  He is survived by Anne, his wife of twenty years, son Daniel, mother Alice, sister Cathy and brother Norman. Allen was a Sonoma County resident the past 18 years where he worked as a landscape and architectural photographer.  Allen was a participant in Camden's mailing list and attended last summers all-year reunion where he took pictures for his Camden website (see reunion article this issue.)  Said fellow classmate John Wiley of Allen's passing,"Allen was a quiet, warm, and thoughtful man."
The publicity surrounding the building of Disneyland sparked ideas in many an entrepreneur's head during the fifties.  By 1955, the year Disneyland opened for business, H. Glenn Holland had already opened the first of what would become a chain of three Santa's Village amusement parks at Lake Arrowhead in Southern California.  Meanwhile, the success of a local builder's temporary Santa's Wonderland in Scotts Valley the winter of that same year convinced Holland that this area could support a second Santa's Village.  Acquiring the polo pony farm previously owned by golf pro Marion Hollins, Holland began plans for the park to be located on the east side of highway 17 as it passes through Scotts Valley. <![if !vml]>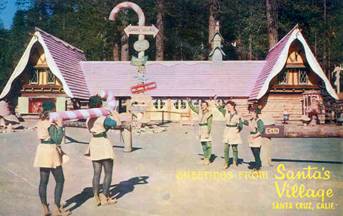 <![endif]>
Santa's Village opened Memorial Day of 1957 complete with winter-themed rides such as the spinning snowballs, a mirror-maze, puppet shows, a petting zoo, and of course Santa's house complete with a refrigerated "North Pole."  All the buildings in the park featured high peaked roofs with artificial snow and icicles, even the gas station out front was adorned in this fashion. 
Employees were garbed in curled toe elf costumes, in the case of Santa's helpers, and lederhosen for ride attendants. Certainly that was no fun during the hot summer months.
Over the years various promotions were tried, including the addition of exotic animals and local celebrity guests such as Captain Satellite, Smokey the Bear, and Romper Rooms Miss Nancy. 
The first and favorite Santa was Denmark native Carl Hansen.  He played Santa at the park for five years then left for television to become the clown Hocus Pocus. 
Alas, the park had a hard time competing with Santa Cruz Boardwalk, a mere ten minutes down the road.  Santa's Village Corporation filed for bankruptcy in 1977 and the property owner took it over in an attempt to run the park profitably.  In 1979 the park closed for good.  Equipment was sold off, the snowball ride was converted and is still in use at the Boardwalk, but the buildings remained.  The site sat deserted for some time, teenagers up to no good who climbed the fence were the parks only visitors.  Eventually the land was sold and is now the site of high tech firm Borland International.  
Thanks to Carolyn Swift, Santa Cruz historian, for information contained in this article.
David Morris – English Exchange Student
<![if !vml]>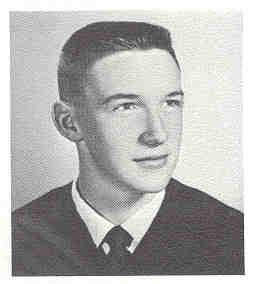 <![endif]>"People are amazed at who and how much I remember.  But, for me, it was all new, fresh and striking, and it is no wonder that my senior year at Camden is still vivid in my memory. "  This statement is from David Morris who was one of 1,525 exchange students from 47 countries in the year 1960.  David shares an excerpt from a paper he wrote upon his return to England with current comments following.
I am now 11 months and 6,000 miles away from Los Gatos, the Californian town 50 miles south of San Francisco, which was home to me for one school year, but the impression still lingers of the single-storey white-plaster town nestling between the paws of the El Gato hills. My arrival there, as befits a "reserved " Englishman, was quiet and when the family who were to be mine for the next year arrived late I knew that we should get on well. And so it proved. The Murphys took me in, and their church socials, tractors, apricots, school boards, dates, and relations became mine as well.
The Murphys are a well-established Californian family with the Irish ancestry that all Americans claim and Mrs. Murphy also has a family tree that goes back to the "Mayflower"! They own a 120-acre apricot orchard and a small ranch which Mr. Murphy runs himself (with a little extra labour from the family) and which he has built up from scrub, though the lean times of the "Steinbeck period", into an apricot gold mine.
After my arrival I had only one week in which to make two friends, write a letter home, learn to water-ski, and understand the language, before I was bundled off to Camden High School - a truly bewildering experience. No morning assembly; just a loud bell at 8 a.m. followed by another, five minutes later, at which time if you were not in class, tutorial wrath followed. The first class I went to was English with beaming Mr Reagen who heard my name and stated that "here is the exchange student you have all been waiting for", and asked me to say "Hello". I did. My blush was one on which few radishes could have improved.
From then on the questions came thick and fast. " Would you rather live here or in England?" (Diplomatic answers about environment). "Do you use the metric system in England?" ("Only in science lessons".). "Do they have TV over there?" ("We invented it!") "Why isn't England a member of the Common Market?" (Waffle about the Commonwealth and international responsibilities.)  "Do you know Cyrus. C. Etton the Third? He lives in Liverpool and that is near London". ("We have a population of over 50 million".) And the inevitable "What are English girls like? ("American girls as far as I can tell!").
I settled down quite quickly despite coeducation, hour-long classes and the same time-table every day of the week. My programme was United States History (185 years may not seem long but it is well-packed), English Literature, study period, lunch (half-an-hour), Public Speaking, Typing, Physics and P.E. The standard was higher than most English people will give credit for and in the year we covered the equivalent of "O" level Physics with a bit more added on. There were no big exams and marks usually depended on homework, of which there was a large amount, and weekly tests, with some subjects requiring a "project". In Physics mine was " the Mechanics of the Human Body ". Grades depended on the amount of work put in, and slacking had its own reward.
I found the system of discipline at Camden quite alien to that which I was used to. Teachers were much more informal, calling students by their Christian names, and gave no punishments. This was left to the Deans who interviewed all offenders and the punishments varied from a lowering of grades (possibly an "F" for the week) to, in severer cases, suspension. These, I was surprised to find, worked well as grades were of great importance, largely through the need for good grades for a job or college place after leaving school.
The "Associated, Students of Camden High School" largely ran their own affairs, especially in the social field. "Student Body Cards" costing six dollars (about two pounds) were sold entitling the bearers to vote at elections, attend all school games, go to school dances, and receive a yearbook at the end of the year. These netted about 8,500 dollars and the rest of the students' 14,000 dollars budget, was raised by scrap and paper collections, dances, "sock-hops", and a carnival.
The aspects of Camden High that most impressed me were its organization and enthusiasm. There were at least 16 different forms that had to be filled in for absences, tardiness, or membership of school team, and all team members had to have medical insurance. Sports were taken very seriously and it was there that the enthusiasm was really shown. Can anyone imagine half Hertford Grammar School turning up to support Saturday afternoon school rugby matches? The enthusiasm is whipped up into organized cheering by the "cheer leaders" and good spirit can often mean the difference between winning and losing a hard match.
Now David Writes…
The visit to the 40th reunion was my first Camden reunion visit although I have kept in touch with the Murphys and visited them in the summer of 1964 (I picked cots and prunes), Easter 1982 (it rained, I never saw California green before), and thanksgiving 1994. It was great to meet up again with foster-brother Bill Murphy (Camden '59) and visit his new home in Flagstaff, Az.
<![if !vml]>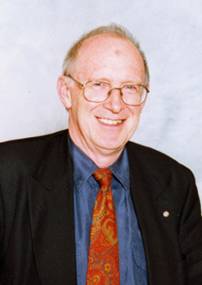 <![endif]>I remember the Santa Clara Valley when two-thirds of it was orchards, you could walk along Blossom Hill Road without seeing a car, and we never locked the house doors. Changes were coming - "What do we do when we get to the Promised Land, Rabbi?"  "Sub-divide it!"  My first reaction on returning in 1994 was "Paradise Lost!" That's the problem with the best places. You can't keep them secret.
What impressed me most was the way that the High School Districts had managed the growth and subsequent contraction of the high school population in the Valley. In 1959 Del Mar had just opened, the third high school in the Cambell Union District. By 1964 there were six high schools, in the 1970s the district had divided into two, but by 1994 it had contracted to one district again and Camden was a supermarket. That's quite a challenge for management and one that I couldn't see happening without bloodshed (I exaggerate slightly but not much) in Britain.
David went on to major in English and after receiving his Master's degree he joined Durham University's administration.  After eight years he advanced to University of Leeds where he worked until 1990.  During that time he married and that union produced two daughters and a son.  After eighteen years his first marriage ended in divorce, he has remarried.  He has remarried and is now involved in international fundraising.  David would be delighted to receive emails from friends and contemporaries, contact the editor for David's emailing instructions.
Mark Havens ('76) seeking Cathy Denk ('77.) and old Boy Scout pal Charles Tiller Jr. ('75)  Judy (McClure) Crooks ('67) is looking for Linda Christensen ('67.)  Lois Moga Marygold ('71) would like to hear from Teri Russo Stover ('71.)
Karolyn Gragg ('60) wants to contact David Morris.  Theresa Yocum ('76) needs Susan Hartman to help her find Diane Autry.  Mike Cox ('73) would like to hear from Neil Nelson ('73)  Gary Lopiccolo ('74) has lost track of Gary Russell and Bill Gohranson.  Jackie Clark ('73) would like the following Class of 73'ers  on the "news only list" to contact her; Lewis (Sam) Borland, Laurie Butcher, Gloria Davis, Shannon Murphy, Neil Nelson, and Catherine Utzerath.  Jackie is updating the address file for the next Class of '73 reunion, so all from that year should contact her. Alice Dutton ('65) is seeking Phyllis Rivas ('65).  Lastly, the editor would like to interview Anita Cortez ('74) if anyone is in contact with her.
Cougars Tales normally avoids making political statements or remarks but given the fact that this is an election year we couldn't go without a noteworthy comment.  Of course, a picture says it all…
<![if !vml]>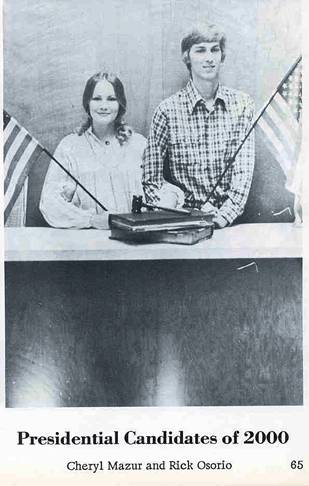 <![endif]>
From Memini 1976
Cougars' Tales is interested in your Camden and Cambrian Park story ideas; please contact the editor at trose01@telis.org.  The editor is also looking for photographs of Camden High and early photos of the Cambrian Park area.  Especially sought after are pictures of the burger joint across the street from Camden that closed in the mid-sixties and the trampolines that operated at Cambrian Plaza in the sixties.  Special thanks go out to Ric Bretschneider ('74) for his help putting this issue on the web.  All articles and most photographs by Tom Rose unless otherwise accredited.  Pruneyard Tower photo courtesy of San Jose Mercury News.  Mary Ann Keeler photo from Ida Price 1970 Yearbook.  Jim Baughman and David Morris photos from yearbook and reunion sources.  Santa's Village photo from promotional material.