Cougars' Tales

Issue Number 9 - Fall 2002

Camden High School's Electronic Newspaper
Editor Tom Rose, Class of 1974 - Post Office Box 881 Los Gatos CA 95031
Email trose01@telis.org - Camden Web Site: www.camdenhigh.com
Issue available at http://www.cougarstales.com

New

Camden

Construction
 <![if !vml]>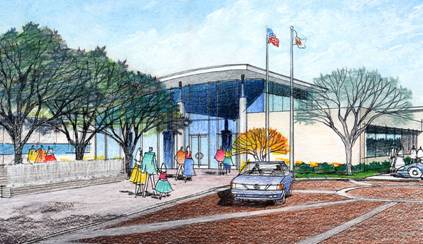 <![endif]>
Bulldozers will soon return to destroy more of the old Camden High buildings.  Money provided through Measure P approved by voters in the fall of 2000 will enable remodeling to take place at the old school campus.  Facing demolition this time it is the industrial arts wing.  Standing close to Union Avenue and paralleling the practice fields, these so-called "shop classes" are slated for replacement as they "don't meet the needs of the center" according to Gary Okazaki, superintendent of capital bond projects for Santa Clara County. 
A total of ten million dollars will be spent making changes at the site.  "The scope of the project is to have one multi-purpose facility in each of the ten counsel districts," stated Mr. Okazaki. The two shop rooms to be leveled will make way for an auditorium complete with kitchen facilities.  The room will be available for rent for various activities including wedding receptions. 
<![if !vml]>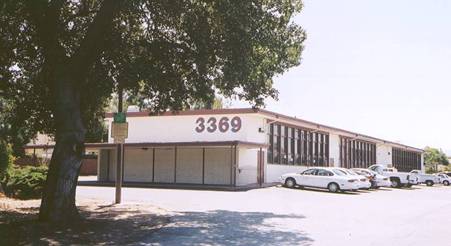 <![endif]>When work is completed on the center in 2004 or 2005, the total square feet of interior space will have been enlarged by 23,000 to a total of 60,000.  Building upgrades will include an extension of the office areas now present.  Under consideration for this project is a display area for Camden High memorabilia. 
A major art sculpture is in the planning stages and will be ready for the grand opening of the finished remodel in 2005.  Developed by the City of San Jose along with a community action committee, the work by Michael Stutz will feature two hands clasping. 
Artist Michael Stutz, a native of Tennessee, moved to San Francisco in 1987. While in the Bay Area Mr. Stutz exhibited sculptures created from recycled materials.  "Pneumatic Dreamer", an example of his work that depicts a sleeping person, hangs above the entrance to the W San Francisco Hotel at 181Third Street near Howard Street.  The community center sculpture will be large, measuring twelve feet high, six feet wide and three feet deep and will be constructed of woven bronze strips, a technique the artist is known for.  The art itself will cost $140,000 and is subject to city council approval.  San Jose Director of Public Art Harriet Traurig told Cougars' Tales that two percent of all public project cost must go to art.  "There were complaints that people often drove by the center without even realizing it was there, " according to Ms. Traurig. So it was decided that the art had to both alert passing drivers to the spot and reflect the goals of the community center.  Some members of the public initially requested a cougar in honor of Camden High, the previous use of the property, but most wanted the art to be something of universal appeal that would relate to the current use of the location. 
The construction firm for this project will be chosen in November with work to commence in January.  It is hoped that a display area for Camden High memorabilia will be designed into one of the new buildings. 
Mrs. Cully Plant

Camden Faculty – Home Economics

Camden

All-Year Reunion 2002

Camden Faculty Members

Mr. Osorio – English

and Mr. Gordon - Music

Camden

All-Year Reunion 2002

Sal Taormino '61 and

Collin Lyons '62

Camden

All-Year Reunion 2002

Marry Ann O'Neil '77 and

Patricia Ann O'Neil '77

Camden

All-Year Reunion 2002

Mr. Purcell

Faculty, Director of Activities

Camden

All-Year Reunion 2002

Will Finck accepts donation of $500 for the Camden Foundation from the Tri-Year Reunion committee

Camden

Tri-Year Reunion 2002

Syndicate of Sound

Plays their nation-wide1966 hit "Little Girl"

John Duckworth (drums), Don Baskin '64 (Singer, Camden Alum.) Bob Gonzales '64 (Guitar, Camden Alum.)

Camden

Tri-Year Reunion 2002

No comment.

Camden

Tri-Year Reunion 2002
<![if !vml]>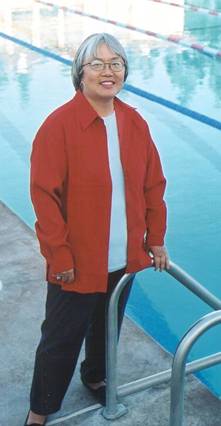 <![endif]>"Everyone calls me Shar"
Starting out a U.S. History teacher in 1968 was a difficult time for Miss Sharlynn Mar.  Lured from her hometown of Fresno by a recruiter seeking instructors for Camden High, Miss Mar found the first year of teaching to be difficult;  for instance, allocation of time for discussion of topics was a problem.  "Just getting through World War II" became her goal.  Given that the Vietnam War was at its most intense, that subject was especially troubling given its emotional nature at the time and the lack of "hindsight perspective," according to Mar.
Born in Fresno where her grandfather owned and operated a Chinese restaurant and her father worked at the National Dollar Store, Miss Mar was the middle child of three.  Her older sister is now an attorney in San Francisco and her younger brother an Oakland architect. While a history major at Fresno State, Miss Mar was the recipient of a Fulbright Scholarship.  One benefit of this honor was a trip abroad to study at the University of Vienna where she studied German and History.  Upon her return she received her teachers credential from Fresno State and did her intern work in that area. In college Miss Mar was not particularly interested in education classes.   She had some interest in elementary school teaching, but realized that she wouldn't really get to use much of her history knowledge at that grade level.
The decision to move to the San Jose area to teach was made easier due to family members living nearby. New at Camden, Miss Mar remembers her first department chairman, Mr. Will Finck as " very liberal" not that she had any objections.  "The Camden teachers were very close," remembers Mar, recalling how the young staff was "learning to be teachers together."  Even now a group of faculty members from this period will often still get together.  "Some of my closest friends are former Camden teachers", states Mar.
Upon Camden's closing in 1980, Miss Mar remembers some teachers crying.  Many of the teachers were sorry to see their close group splitting up, and many, like she, had been at the school since the 1960's. Miss Mar left Camden for Westmont High, her first choice for a new school location as she had acquaintances with several history teachers there and knew she "would enjoy teaching with them."  It was a "welcome change," stated Mar. While at Westmont she even had a chance to teach a few children of students she had taught years before at Camden.  After twenty years at Westmont, eight more than at Camden, Miss Mar decided to retire in June 2000.
Now living in the Campbell area, Miss Mar doesn't substitute teach as many of her peers do.  Instead she sees her life as an "endless summer" in which she enjoys hobbies and travel.  Among her travels during the last two years are visits to London, Paris, Hawaii, Peru (where she broke her ankle), Ecuador and the Galapagos Islands.  She has visited China three times, including travel to her father's village where she met her father's half-siblings.   Her hobbies include reading, photography, knitting and gardening and she also works as a volunteer ambassador at the San Jose Museum of Art.
Miss Mar enjoys running into former students in the area but laments that they don't include their name and graduation year when they inquire, "Remember me?"  Even though her experiences at Camden High are decades past, Miss Mar reveals, "I still think of myself as a Camden person in some sense."
Record Hop (1959-1964)
<![if !vml]>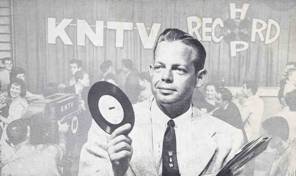 <![endif]>Record Hop began January 1959 and faded away in January 1964 as the Beatles changed the face of popular music.  Hosted by Frank Darien, a former radio-advertising salesman and DJ at KSJO radio prior to its rock music format, for all but the last nine months.  Darien's advertising agency had become such as success he had to leave Record Hop to Stu Park towards the end.  Park had been an announcer and crewmember at KNTV.  Frank Darien passed away in March of 2001.  Unfortunately, no tapes exist in the Channel 11 vaults of Record Hop, as videotape equipment did not arrive until months after the Hop's demise.  San Jose State College (now University) did tape the last Record Hop show on two-inch reel-to-reel videotape.  It is unknown whether the tape still exists in a viewable format. 
<![if !vml]>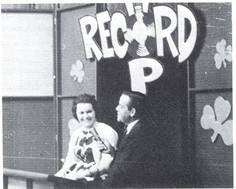 <![endif]>At the time that Record Hop played, KNTV was watched throughout Monterey County as well as Santa Clara.  Record Hop would broadcast live from various towns in the area, usually featuring local bands. 
Besides hosting schools, Record Hop has special programs such as the father daughter and mother son nights.  Costume dances, including Halloween and Mardi Gras programs were popular.  Sometimes KNTV would promote a new ABC show by having a tie-in.  The Hop had a special 1920's program to tie into a new drama that was set in that time period. 
<![if !vml]>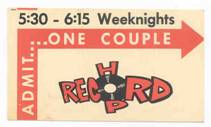 <![endif]>
Broadcast from the same studio as the children's program Hocus Pocus at the studios on Park Avenue.  Tom Rose ('74) has his own memory of Record Hop; while waiting to go on Hocus Pocus, he peered through an open door and saw the teenagers dancing.  Tom recalls that as a five year old he was quite impressed. "The teens were all dressed up and I remember thinking how sophisticated they seemed." Tom Margrave ('59) remembers, "I attended Record-Hop in the fall 1957 or spring 1958, I think it was the first times Camden was on the show as a school. Pat West, one of the cheerleaders asked me to attend as her dance partner."
"I remember Record Hop because my boyfriend went to it with another girl! I was such a longsuffering, 50's-trained good girl (translation: wimp) that I didn't break up with the jerk." remembered Meg (Margaret) Mitchell ('63.) 
<![if !vml]>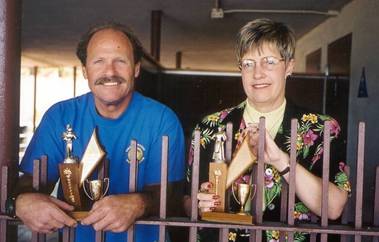 <![endif]>Part of the program was a dance contest.  Everyday a winner was chosen and on Friday the daily winners of that week would compete for prizes. Barbara Driskel Rogers ('66) remembers, "My awesome older brother Jeff Driskel ('65) and Connie Pitcher ('65) were on Record Hop together.  Each week there was a featured school. When it was Camden's night, Jeff and Connie danced so good together that they joined the dance contest and won.  I think they each won a pizza from Me & Ed's pizzeria.  They went back for the finals the following week and won again."   Jeff himself adds "Does Record Hop bring back some memories!  I attended the Camden Hi Nite in January 1963.  Connie Pitcher and I won the fast spotlight dance contest and then we went on to win the weekly contest.  I've still got my trophy!" 
Cougars' Tales would like to thank Jan Moellering, KNTV Programming Director, for providing information on Record Hop. 
"Heard Around the Quad" is a collection of reminiscences and other postings to the Camden Open List. 
Cambrian Plaza
The Cambrian Plaza, a Cambrian icon that turns 50 next year, brings many fond memories to mind. For <![if !vml]>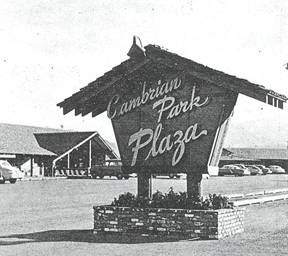 <![endif]>Dinah Zuniga-Garcia ('77) a typical Saturday went like this;  "Start out going to the pharmacy (Leiter's), looking at the jewelry, carefully looking at the magazines, checking for new arrivals among the stuffed animals.  Go from there to the ice cream parlor to see what new flavors they might have so I can think about it.  Then go next door to the pet shop.  Then on to the Jack n' Jill store, I could see myself in all those cute clothes.  Then, feeling important, I'd go put a few quarters in my savings account at Bank of America.  Stop in and say hi to the shopkeepers at the hardware store, Mode O' Day and Casual Corners, then off to Ben Franklin.  A lot of hard-earned allowance was donated in the candy aisle, just couldn't get away form the Pixie Sticks and candy buttons on ribbons of paper.  Well, then on to the bowling alley – couldn't stay there too long if you weren't bowling.  Ah well, back to the ice cream store for a scoop.   A whole days adventure on less than a dollar."   Linda Lavoie Lane ('66) remembered "sneaking over to the bakery on my bike and buying rock candy" against her mother's wishes.  Ken Rush ('72), also a rock candy advocate, recalls the confection being displayed in the front window of the Swiss Pastry Chalet , "if you bought some the lady would go to the display window and break off a chunk."  "Anyone remember the steam cabinets in the back of the barber shop?" asked Gary Hubbs ('67) who added, "a lot of Camden athletes trying to lose weight would go over there to try and sweat off the pounds."  Michael Deignan ('62) claims that the Plaza "was the place to go."  Of course in those early Cambrian Park days there wasn't much else around.  Michael inquired, "Does anyone remember the Italian Deli?  I got my first taste of pizza there.  Big square slabs that were served cold, delicious!"   He adds, "We fellas surely remember the Plaza drug store where we got our first glimpse of the female anatomy through early issues of Playboy."   "The best egg salad sandwiches and the dill pickles you got out of the barrel" are what Judy Clark Rarick ('66) remembers best of the Fusaro's Plaza deli.  Rather than the Plaza, late grad Patty O'Neil ('77) recalls the Carl's Jr. being a hang out as well and  "Dunkin' Donuts was also a hot spot for us all, if you didn't mind the long line out front."  
Trading Stamps
S&H green stamps and Blue Chip stamps came up for conversation.  Many remembered the Blue Chip store on Branham Avenue, Mr. Osorio (faculty) recalled that the S&H store was at the old Purity location at Curtner & Union (a Walgreens now.)  Talk of trading stamps led to remembrances of china and drinking glass giveaways at local gas stations.  "Remember when you got a complete place setting with a ten gallon purchase?" recalled KATT ('69), "and they pumped the gas!"  Kurt Nelson ('74) still uses the Skil jigsaw his mom got for nine Blue Chip stamp books back in 1964
Guadalupe Dam
Camping gear was a popular trade item.  John Holt ('65) remembers camping at Guadalupe Dam with equipment from the Blue Chip store.  "We camped at the dam at the far end by a big rock.  It was so safe in those days, kids could go anywhere and feel safe."  No need for campgrounds back, claims John who remembers riding his "doo-doo bug" (soon to be termed "mini-bike") at the site. Brett Welch ('78) remembers camping in the same spot.  "There was an entrance to one of the mine shafts just below that spot.  Tight fit to get in but once inside, the original mine entrance had a ten foot ceiling."  Rick Schutte ('66) recalls skipping school for the great fishing and swimming the dam provided.  In those more innocent times, Kurt Nelson ('74) and Steve Salvador ('72) went up behind the dam to plink at bottles with their .22 rifles, Steve claimed he knew a "great spot."  As Kurt tells it, "A short time passed and we were greeted by a local rancher and ranger.  They informed us that we were shooting on his ranch and were also shooting towards a bird sanctuary.  They let us go after a pretty good tongue lashing."   Affectionate memories of the "submarine races" remain for Jeff Driskell ('67) as well as riding the Los Gatos Creek all the way from Lexington Reservoir to Vasona.  Tomas Hernandez ('78) and friends enjoyed the dam a little differently, "We had a tire inner tube and two of us could float around fully clothed with a little boom box and enjoy the afternoon drinking beer.  Cops were never a problem, by the time they parked, crossed the dam and walked down the path you were gone." 
The Cobblestone
Steve Salvadore ('74) recalled "a great selection of candy" at the Cobblestone store on Bascom, just south of Camden Avenue. "Good grief, I'd completely forgotten about the Cobblestone ," exclaimed Larry Cone ('65.)   His memories were of  "Jawbreakers the size of golf balls, Lik-em-aid, those wax tubes filled full of different flavors, red & black licorice, jellybeans, and the best part was it was all sold in bulk.  If all you had was a nickel you could still get several things."
Lexington Dam Flumes
"Did anyone used to walk on the wooden flumes that ran across the hills in front of Lexington Dam?" asked Ed Foley ('72.)  These flumes used to line the hills to the left as one drove highway 17 to Santa Cruz.  Ed added, "We would sit and drink beer and watch Highway 17 for hours."   Mike Briggs ('76) remembers wishing the flumes still contained water, "now that would be a great water slide."  Bob Fudge recalled skinny-dipping at Lexington reservoir, "We'd see the cops drive by on the freeway and we'd take off.  Looking back on it now, I don't really imagine they much cared." 
Mount Hamilton
Darrel Ray ('66) remembered "those rare January days we would get a little snow.  Everyone would go to Mel Cotton's sporting goods and rent toboggans.  Then we would drive that scary road to the top of Mt. Hamilton."  Darrel wondered if that was still a popular pursuit, Gary Hubbs ('67) mentioned that the rangers close the road and ask people to leave when it snows now. 
Purity Market
Kurt Nelson recalled the "racks of rollers used to roll your groceries to the drive-up window." 
Food Fight!
"Food Fights, you had to keep your head down," says Brett Welch ('78) "They usually happened in our day after a long spell of rainy days when the entire student body was locked up in the cafeteria. Tensions mounted, at first it wasn't anything too catastrophic, a piece of cookie or a lone pea. Then without warning, whomp! The unmistakable sound of chairs moving across the floor, screams, then the rapid plop of slop hitting the tables and windows. On occasion they would get nasty and the occasional tray would get air born like a discus. Does anyone remember the steamed rice served from a ice-scream scooper topped off with some kind of green colored glutinous gravy? Man, if you got tagged by that stuff your day was ruined. And Mr. Lee sure could silence one of those events. I can remember him on patrol for a few days after a food fight. He was like Patton on the front lines daring the Germans to lob another round of mortars." 
"I had forgotten about the chair scooting noise, just prior to the cafeteria going nuclear. I usually just went under the table." Kurt Nelson ('74)
Added Mike Roe ('72), "I can practically hear Jim Morrison's voice crooning "The Crystal Ship" in my head while visions of Mr. Lee angrily marching towards the cafeteria to investigate the latest food fight are dancing before me...(weren't those the coolest?)"    those of us from the seventies assumed that food fights were an old stand-by but Judy Clark Rarick ('66) said no such thing occurred during her years at Camden.  Cindy Thomkins Sutton ('65) suggested that the wrath of Mrs. Morse and Mr. Lee combined with the tighter parental control of the sixties must have kept things in check.  Of course, Mike Brown ('74) humorously blamed the food fights on the food itself, "It was cheap and didn't taste that great which made it great for testing geometry and basic aerodynamic flight theory."  Tamineha Delgrande ('78) remembers that the "absolute worse stuff to get hit with was milk.  Once you got it on your clothes you smelled like sour milk the rest of the day." Janie Little Bevens ('79) had a strategy worked out, "I always sat close to an exit in case the animals got restless." 
This Cambrian Park quiz was offered by Jim Votano ('71)
Who remembers...
The pickle barrel in Cosentino's Market (the old one across the street from where the store is now)
Lindey's Bike shop.
The Mayor Art Show (I was on it and won a gas powered airplane!)
The Fun House at the Boardwalk.
The Record Shop at the Plaza
Playing "Buck-Buck" in the quad during lunch.
"Twin Creek's" Picnic Area/Pool way up Almaden Rd.
Anyone who can answer yes to all of these is truly an old timer from the SJ/Cambrian Area!
These stirred memories of John's Restaurant located near the original Cosentino's market on Union & Bascom.  The last T in restaurant was intentionally crooked.  "Crappy steak and potatoes family dining as I remember it" says Mike Andrew's ('72.)  According to Deborah Paris Raiche ('72) and Ed Brick ('74) the parents of alumni's John, Jimmy, and Jerry Brogotti ('71) owned the eatery. 
Chuck Thompson's Swim Lessons
Talk of the long-closed indoor pool The Plunge at the Santa Cruz Boardwalk brought up memories of childhood swim lessons.  John Holt ('65) , Darrell Ray ('66) and  Kurt Nelson ('74) were among the alumni of this school once located at 1810 Bascom Avenue, approximately where the Rasputin's music store is now located.  Mike Roe ('72) went to swim school at Arcave at 1215 Dell Avenue in Campbell in 1961.  The wood sign out front read "Swim, Swam, Swum."  It featured an L shaped pool surrounded by bamboo fencing. 
Santa Cruz Boardwalk Fun House
A number of Camdenites had memorable experiences in the Santa Cruz Boardwalk Funhouse (1920's till 1971.)   Most centered on the rotating drum and the spinning platform.  David Byrd ('65) recalled that taller visiters could span the drum spread-eagle and rotate with the drum.  Ed Brick recalled an adventure when he and some friends spent a cold night huddled in the discarded drum shortly after the attraction was demolished. 
Ken Rush ('72) recalled his experience with the drum, "The drum used to scare me to death, until my brother talked me into getting into it I was maybe 7 years old. I fell down and was being tossed to and fro. I remember crying and begging the operator to stop the drum. I can still picture the scene in my mind. The operator sat on a tall chair at the exit of the drum. He had a microphone he could talk into and be heard inside the drum. "Get up" his voice boomed like it was coming from heaven. "Just look at the picture on the wall" behind where he was sitting. His words were like magic to me, I stood up, looked at the picture on the far wall and walked along the inside of the drum until I found myself standing on solid ground. I had "found" the secret. I could now walk the drum.  I sent the next several hours walking in and out of the drum at will. Ah, one of the few victories on childhood."
Beverly Green Polyniak ('65) could have used some advice apparently, "Boy, do I remember that drum. I was never very coordinated athletically so the only time I tried to walk through it I fell. That was not fun. I tumbled and turned with the drum rotating. I had burn marks and bruises all over me and did I hurt."
Spam, Spam, Spam, Spam
Nostalgic memories of the canned-meat Spam?  Those stationed overseas such as Chuck Crowell ('59) and Jack Van Loan ('73) remember the stuff fondly as does faculty member Herman Osorio who as a child lived on the Hawaiian Islands during WWII.  Chuck even admitted to buying the stuff by the case at Costco.  Many others recalled it being a camping standard, best when fried in a skillet over an open fire.
Test Nightmares
"Does anyone still have those test nightmares?" asked Kurt Nelson ('74.)  "Like you come into a classroom all relaxed and happy... then zap! You get a  test announcement and you know you aren't prepared. You usually haven't even read the homework!"  Mike Roe ('72) responded, "I always have the same nightmare -- I'm back at Camden, and I walk into a class on finals week, and I suddenly realize that I never went to the class for the whole semester, and now it's finals and I am completely unprepared."  Gilda Perez Grozdanich ('75) added, "Mine just consists of getting my locker my freshman year and going back my senior year and being able to open it. I always wonder how I remembered the combination. I wonder what that means?" I remember when I was in my mid 30s I kept having a dream about Camden HI.  Ed Foley (72) I dreamed I was floating through the hallways of the campus, The halls were packed with students. Like it was in between classes. No one could see me. I just flew through the hallways trying to remember where my class was? Or if I knew anyone. I had such a feeling of being lost.  It was scary. It was like the first day of school. That over whelming feeling of being lost.  The dream would always end with me finding the library and everyone I had known at Camden was there!"
Sex Ed
David Byrd (65) In those days, who didn't get embarrassed when they taught sex? I remember our Soph Science class was taught by Mike Jones, new PE teacher. For those who don't remember, Mr. Jones was also one of the football coaches, a former SJSU quarterback and a big guy. I will never forget the image of him "casually' sitting on the corner of his desk, describing the size and shape of the male testicle. He was on the verge of "bolting" the class. We, of course, sat with eyes front, grave expressions, taking detailed notes. I seem to remember that in Mr. Runcie's class a sheet of paper was handed out with all of this sexual fact stuff, which played very well in the corridors, and other rooms of the campus.
At The Drive-In
Postcard collector Scott Rose ('74) purchased a card featuring a drive-in theater surrounded by orchards.  Postmarked 1946 and addressed to Houston, the card has "Drive In Theater, San Jose."  printed across the front (see scan of postcard below.)  Interestingly, the card had been sent from the manager of the theater to a friend.  Sent by a women named Mary who, besides boasting that "each car has it's own speaker", mentions that she lives in a small building flanking the screen.  The Camden open list was called upon to solve the mystery of the theater location.  A number of suggestions were offered, including the El Rancho and the Monte Vista.
This looks like the drive-in off 1st street, the San Jose drive-in. It looks familiar the way you make a sharp left turn after you pay at the pay both. I remember both my dad taking me to John Wayne movies and sneaking kids in, in the trunk.
John Holt '65 I would say it was the San Jose drive in .I don't think the other drive in's are that old, not even the el Rancho .San Jose was a pretty small town in the 1940's .Darrell Ray (66)  Steve Scruggs ('75) did some detective work and verified John and Darrell's suspicions, indeed, the drive-in pictured was the simply named Drive-In Theater. Opening in June 16, 1946, the establishment was later renamed the San Jose Auto Movie.  Cornell Wilde in "A Thousand and One Nights" was the featured picture premiere night.  Later the theater would resort to soft-core porno movies before it's doors closed in 1979. 
I remember the smell of cabbage coming from the fields while trying to watch the moves, it smelled terrible, plus the place was beginning to run down by then. Chuck Crowell ('59)
<![if !vml]>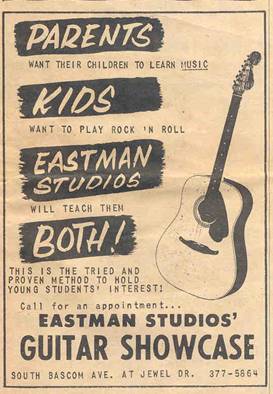 <![endif]>Guitar Showcase
Larry Ray (of the Syndicate of Sound)was my guitar teacher for about a year over at the old Guitar Showcase on Bascom Ave. during the period when they recorded Little Girl, so I always felt like a big shot over that. He, John Sharkey and John Duckworth all taught at Showcase....possibly Don Baskin taught harp there too, but I'm not sure. One thing I can tell you — those guys were NOT punks. They were, however, much more like the typical Camden High School students of the day, and if you look at all of the pics of them from that time, you might be tempted to think they were rock stars and all that, but when they weren't doing photo shoots or concerts, they were fairly regular San Jose guys. (I could never figure out how Larry made himself look like a Beatle or a Rolling Stone when he looked nothing like that at my lessons!) Doctor Love.
Talk about regular guys, John Sharkey and I both got "cut" from the "C" basketball team on the same day in 1963. At least he went on to be a star. Dave Byrd, ('65) John Sharkey (class of 64') was my  first love. We dated off and for three years...Did you know that they wrote  "Little Girl" in one day? They wrote if for some sort of contest and they  won!! That is what got them on "Where the Action Is", 1966. Were all pretty proud of them. They had quite a following. I spent a lot of time at Guitar  Showcase, just lived around the corner on Lantz Avenue. It was great having  so many bands in the area. Judy Clark can attest to that one. We were lucky. I remember seeing the Syndicate for the first time playing at a carnival at Cambrian School. Barbara Driskil Rogers
The "Ernie Lee Special"
Is there anyone out there that got a "buzz" from Mr. Lee. Used to be that if you did something bad enough or bad enough times that he would take you across the street to the barber to have your head shaved. Probably wouldn't be as effective these days. Rob Fulton  '73Yes He did do it and I was one of his customers!
We used to call it the Ernie Lee Special. It was kind of a badge of honor in a way. Because the style of the times was to have long hair, if we sported a short haircut, everyone knew you were "cool" enough to get in trouble.
A little history on the Ernie Buzz; This was during the days when the schools could enforce a dress code and tell the students how long or short their hair, skirts, or dresses could be. Girls were not allowed to wear pants.
So Mr. Lee used to let us get away with long hair...As long as we stayed out of trouble. But if you got called into his office for disrupting the class or something and you had long hair.... he would make you get it cut real short. Ken Rush, 72
Rob Fulton -So very true as to how you became instantly more popular and a tab bit more respected after "The Buzz"
Remember?
You know I just thought of some thing every one used to do is -stuff love notes in the vents of the lockers. Darrel Ray
Remember how you could take a popcicle stick, slot it and use it to open those old combination locks that were on the lockers. Tom Shean  ('73)
Sadie Hawkins dance "marriage" certificates Gilda Perez Grozdanich 75
You mean Like;
Prune Orchards
Stingray Bicycles
Bomono Turkish Taffy
Funny Face Drinks... Chinese Cherry, Goofy Grape, Lefty Lemon, Injun Orange, Freckle Face Strawberry, Root-n Toot-n Raspberry, and my favorite Loud Mouth Lime
Fizzies
Pea Shooters
Imperial Yo-Yos
Duncan Tops
Wacky Package cards, Crust tooth paste, Raw Goo Spaghetti Sauce and Peter Pain Peanut Butter.
Lava lamps
Black Light posters
Head Shops
E-Ticket Rides
Free maps at gas stations
Mike Brown '74
Playing baseball in the middle of Camden Ave and only have to stop a few times for cars to go by... Ken Rush 72
We wore Mardras blouses (the material that bled when you washed it over and over), culottes (the skirts that were like pants), blouses with button down collars...I remember empire waist dresses being in and wearing textured  stocking/tights in 66'. Pea Jackets were in, you know the ones that navy guys wore...We couldn't wear pants so that was out... Barbara Rogers  (66')
How about the Ben Casey blouses that buttoned down the side? I loved those!  White Stag brand clothes, go-go boots, "elf" shoes, Funky Groovy brand clothes... Patty Nissonger
Nehru jackets.(you look like a priest)
Turtle neck shirts (dickies)
Hi Karate cologne
Home made bell bottoms,You tare the sides of jeans & so in a piece of fabbreck or leather..Leather ,,Stringy leather Pasley shirts. String leather braceletes, anklets Boto Bags (wine only)  Ed Foley
Girls gym fire 3-11-63
Research has unearthed further facts on the Camden girls gym fire of 1963. The culprits were two brothers ages eleven and thirteen. They were parishioners of St. Francis Cabrini (located across the street from Camden.) Apparently a television program that featured a gang of youths who performed burglaries influenced the two boys. They began breaking into schools and stole money six times from the poor box at Cabrini. They admitted to breaking and entering Farnham, Metzler, Price and Camden as well as stealing from the Cambrian Park Plaza. The parents were unaware of their offspring's crime spree as the boys would sneak out at and return at four in the morning. On the night of March 11 the boys broke into the girls locker room. They made torches out of paper in order to see in the darkness and accidentally dropped one into a pile of nylon swimsuits (those baggy suits the girls hated.) The ensuing fire resulted in damages of $130,000. The boys were caught when fellow students reported them bragging about their crimes at school. One of the boys had $75 in his pocket when caught, big money in '63.
Those baggy suits were great, depending of course on your point of view...  Dave Byrd '65
I don't know about the girls but I do remember that you didnt want to be the one boy who was last and got the suit without the drawstring. Chuck Summers  '66
I remember the family trips to Kinney's Shoe Store on Bascom at Camden. I also remember pleading for dad to spend the extra .75 for the high tops. High top were $3.75 and the shoe only came in black or blue. Mike Brown 74
The second is probably better not dwelt upon for long. Anyone recall the "Earth Shoe" craze in the late '70's? I do remember the passionate discussions of the health benefits of the negative heel design. Apparently they're still being made today, so somebody must like them. I can't say I wore them for long after buying them.-Ric Bretschneider'74
Hate to admit it, but I wore them  for a while, along with my big bell Levi's . . .
Deana Williams  '79
Famalares. Didn't they have kind of a wave to the sole? I was a big Bear Traps fan. The soles were all wooden, and they were platforms. I think I about broke my ankles a few times (not really), and they weighed a ton. Deana, were Earth Shoes the same a desert boots? I remember wearing desert boots, but I can't remember Earth Shoes. Janie Little Bevens 79I had the coolest blue suede platforms that matched my blue suede coat with fake Bare Traps and Ditto Pants - lived them into my early 20's. Loved those shoes. Gilda ' 75
I didn't forget those pointed toed shoes. but every time I think of them my toes start to hurt .and you remembered another thing I had forgotten ----Jade East Cologne - boy I used to spend hours trying to get that water fall just right . Darrell Ray 66
Pruneyard Restaurants
Can anyone tell me if the omelet restaurant in the Pruneyard shopping center is still there? I can't remember the name of it either. It's the memory thing, again.!! Jackie Clark (Johnson 73)  (It was The Cookbook. – Eds.) But what was funny was my friends asked where I parked and I said, "In front of Bumbleberry's!!!" Anyone get that?! :) Guess I'm getting old. Joan Moga '78
Senior Prank
Brett Welch '78 - Mr. Purcell was the director of student activities and as senior prank in 1978 a few of us presented him a large gift prior to graduation. The gift was so large it denied access to his office on a Monday morning shortly before the end of the school year. It took the janitorial staff about an  hour and a half to remove it. It was a huge pile of horse manure. The stack was about eight feed wide and about five feet high.  No permanent damage, just an expression of appreciation for his "support".
Shop Class
I thought of my art teacher Mr McLaggan .and that coffee table I made .I must have made the metal frame in metal shop .I took colored bottles and broke them up and used them like tiles .at really looked pretty -sharp -.I remember I had a heck of a time getting Mr McLaggan to let me use glass for obvious reasons .it got put into the attic .and when I was helping my dad move there it was .wood shop I made a single water ski and a letter holder .we got a lot of use out of those things .those shop classes were a big help to me.- so who else made some neat stuff in shop classes ? Darrell Ray 66 
I remember making a flamingo bird chipped and carved it out of a hunk of wood.  Darlene '65
I made a beautiful chess set from brass & aluminum that found it's way into the 1978 yearbook. I remember burning every fingertip while polishing each piece to a mirror finish, just in time to be a Christmas present for my little brother. Russ Rodriguez ('78)
I remember in wood shop one of the guys had fairly long hair and was leaning over the lathe and it grabbed his hair and pulled a huge chunk out by the roots. Ken Rush ('72)
Pool Problem
One morning in 1963, I was a sophomore, we were all on the side of the pool under the 3 meter, Coach Worrel was on the deck above us and suddenly, green bubbles of pure cl2 came up in our faces. Coach Shatusky and another coach rushed twelve or so of us to the hospital. Coughed our guts out for two hours. One kid was in an oxygen tent overnight. Chlorine is bad stuff. Interestingly, swimming pools have played a major role in my career and as I have become proficient in pool operations. I heard later that Coach Shatusky blew the head gasket of a borrowed station wagon rushing us to the hospital. Dave Byrd ('65)
Local Landscape
The cover of the summer issue of Nature Conservancy magazine has a photograph of beautiful green fields and hills. I was surprised to discover that it was a picture of the Mount Hamilton area. I guess I don't give much thought to the local natural wonders.  Calling it a "California from a younger era" the magazine devotes seven pages of color photos to the million square plus acre expanse, noting, "Nothing else like Mount Hamilton remains in populated California." Considered an ecological prize, the Conservatory and its partners protect 81,000 acres at this time.For more information on the work to preserve the beauty and ecological treasures of Mount Hamilton go to http://nature.org/sucess/mthamilton.html . The last picture in the series shows a sprawling San Jose in the distance with its "subdivision fingers lately reaching into the mountain flanks."  Tom Rose '74
Class of '73 members will want to contact their 30'th reunion committee members Jackie Johnson Clark or Michael Cox for entry into the reunion database.  Jackie can be reached at jclarktx@yahoo.com, Michael Cox at mbcox4@juno.com.
<![if !supportLineBreakNewLine]>
<![endif]>
John Terrill ('58) is interested in hearing from classmates from his era including Pricilla Hutchinson, Dale Harper and Jill Chambers.
<![if !supportLineBreakNewLine]>
<![endif]>
John Terrill, Class of 1958, (the first one!) would like to hear from classmates of that era.  "Pricilla Hutchinson, Dale Harper, Jill Chambers, and ??? My waistline & hairline hasn't changed much… How about you?" Contact him at Jaunty2@Aol.com
Darlene (Bowen) West class of ' 65 is looking for Judy Heath class of '66 sister Melissa class of  '67. If you have any information please contact w50rose@attbi.com
David Patrick Cunningham died Wednesday, October 17, 2001, at the Watsonville Community Hospital after a brief illness. He was 45. A native of San Jose, Mr. Cunningham lived in Watsonville for the past 13 years. Mr. Cunningham is survived by his brothers Michael Cunningham of Hollister, and Jeffrey and Stephen Cunningham, both of San Jose; his mother Alice Cunningham of Watsonville; his father Lawrence Cunningham of San Jose; and his grandmother Acquistapace of Watsonville.

Tina S. Kifer '72 (Sheryl Leopard)

May 19, 1954 to August 4, 2002.  Services held in Oklahoma City.  Internment at Chapel Hill Memorial Gardens, Oklahoma City.  

Jeff Teeple (73)

January 2002

Doug Berthold (77)

April 23, 2002

Duane Simmons, age 43. Was killed on April 16, 2002. The on-site manager of his father's rental property was killed with a crossbow while trying to help a housemate on Cherry Avenue.  He'd only a week previously been released from the hospital after suffering a heart attack. 

<![if !vml]><![endif]>

Steve Baxley class of 1975 died of a heart attack May 29 at the age of 45.  Steve had been working as a general contractor. He is interned at Oak Hill Memorial Park of San Jose.

<![if !vml]><![endif]>

Robert J. Smith  5-18-31 to 6-17-01.  Worked at Camden as a counselor and orientation from 1959 to 1962.

Coach John Anastasia died November 25, 2002 in Los Gatos, he was 70.  A physical education major who graduated from San Jose State College (now University) in 1955, Anastasia began his career as a football coach at West Point.  He taught physical education at Camden High in 1961 and 1962, coaching varsity football both years.  He also served as assistant coach at New Mexico State University, Colorado State University, the University of Virginia and in the 1960's at San Jose State.  He owned several athletic clubs in the Bay Area, the first of which opened in Campbell, the second in Los Gatos. 

Greg Conard

Class of '70 

Died Oct. 9, 2002.
Camden
Foundation News
The Camden Foundation awarded the first annual scholarship to a graduating senior of Branham High School this past May.  The foundation's scholarship committee, comprised of local educator Gary Hubbs ('67), Judy Rush Davis ('66) and Tom Rose ('74), studied papers written by college-bound Branham students who needed a financial helping hand.  Students, who had to have a grade point average acceptable to the California University system, were judged based on the seriousness of their educational goals and their monetary need. 
<![if !vml]>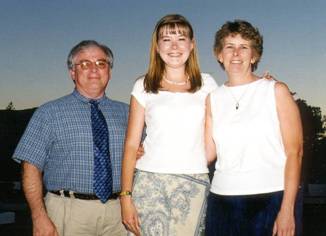 <![endif]>
Early on it was decided that a student body member of the recently reopened Branham High would be the scholarship recipient.  This was due to Branham's being the primary high school for Ida Price students, who made up the majority of Camden's student body. 
* * *
At the Branham awards ceremony held last May, Gary Hubbs spoke briefly to the crowd gathered in the auditorium.  He described the Camden Foundation, explaining how the foundation came into existence and its goals.  The award winner was not pre-informed making the scholarship the sole surprise award of the evening.  Jennifer Penner was all smiles when her name was announced; in fact she jumped up and down in excitement.  After the ceremony Ms. Penner told Cougars' Tales that the award was especially important to her because her mother Chrisine Bartel Penner ('71) had attended Camden. 
* * *
On July second, a barbeque fundraiser organized by Mary Ayers (77) was held at the Armadillo Willies located on the old Camden grounds.  The get together made for a fun evening and some additional cash in the Camden Foundation's account.  Fresh from attending a Girl Scout event at the same restaurant Mary approached foundation board members with the suggestion that they make use of AW's fundraising program.  A couple dozen Camdenites showed up to eat ribs and drink beer with twenty percent of their tab going to the foundations coffers.
* * *
The Camden Foundation is proud to announce its most ambitious project yet; a presentation by Dr. William Steele, the founder and director of the National Institute for Trauma and Loss in Children.  The presentation is scheduled for December fifth at the San Jose Masonic Center. Dr. Steele works to develop skills for those working with young people who have suffered trauma. He will deliver a three-hour interactive program, complete with audiovisual and written aids.

Besides bring the author of numerous publications on subjects including teen suicide prevention, working with families in crises, trauma response violence prevention/intervention and developing nationally distributed video programs on these subjects, Dr. Steele was one of the first Americans selected to provide trauma and loss training to Kuwait's first counseling group following the Gulf War in 1993.

A certification program developed by Dr. Steele has trained thousands of professionals as child trauma and loss consultants.  He has developed programs for pre -school , a group program for children 6-12, individual programs for children and adolescents 6-18 and a program for parents of traumatized children as well as for parents or adults who have been traumatized themselves.

The Camden Foundation is sponsoring Decembers program cost-free to teachers and professionals in related disciplines in Santa Clara County. Funding for this event is provided by the donations of foundation members.  This is just one more way the foundation is working to serve the youth of our community.
* * *
Impress your friends with your Camden Foundation lapel pin.  The foundation logo with it's snarling cougar has made the transition to jewelry that is available for the meager cost of a year's membership - $25.  Also available are Camden Foundation coffee mugs.  These hearty vessels, suitable for the beverage of your choice, feature the foundation logo on one side with a line drawing of the old alma mater on the reverse.  Makes a wonderful conversation piece. 
The Camden Foundation's website can be found at www.camdenfoundation.org.
Cambrian

Park
Memory
Special to Cougars' Tales by Mark Miller, Class of 1963
From sometime during the school year of 1962 to the summer of 1964, I worked part-time in Cambrian Park at Leiter's Drug Store as a stock and delivery boy. Leiter's Pharmacy was then situated at the very southern tip of the shopping center, which sprawled southeast from the intersection of Union and Camden Avenues, cat-corner to the now mostly demolished Camden High School campus.
A Rexall outlet, it was owned and operated by pharmacist Lionel Leiter and his father, and a small cadre of employees, who ran it with close attention to detail and kept an impeccable store. It was a very personal place,
attentive to customers, who could request free delivery of prescriptions. Part of my job was to make the deliveries in the pharmacy's tiny Fiat, emblazoned with a Rexall Pharmacy logo. When the Fiat died, Lionel let us make deliveries in his Austin-Healy Sprite.
<![if !vml]>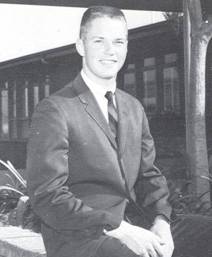 <![endif]>
1963 Student Body President
Mark Miller
Lionel was a stylish and sophisticated guy with a wry wit. Which was fortunate because as word got around that I worked there, a curious sideline business sprouted. On occasion, guys at school would take me aside and ask me to buy condoms for them, because they were too embarrassed to come in and buy them publicly. It got so that I sometimes took a half-dozen orders a day. Guys would come into the store, seek me out, and I'd make the sale discreetly, using a brown paper bag. Most guys, however, were too embarrassed to even enter the store, and instead took to parking behind the store by its trash area, which I visited nightly during the pre-closing cleanup around . They'd place their orders with me at school, and I'd fill them at night, behind the store, and ring up the sales in the cash register.
<![if !vml]>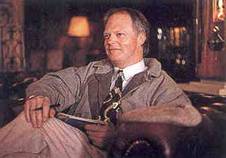 <![endif]>
Mark Miller
During summer, there might be 3-5 cars nightly, lined up behind the pharmacy at closing time. I'd haul out trash, and then go quickly from car to car, making the sales. Condoms were then priced at 60 cents a pack, although some cost 75 cents. This caused some confusion, because I sold from our stock drawer, not the front shelves, and often we might be overstocked with the more expensive brand. I got weary of hearing these guys complain about being charged 75 cents versus 60, and of having to make change in the dark. All this fuss, of course, was necessary because these Don Juans were unwilling to come into the store like big boys and make the selection they wanted. To end the hassle and pay myself something I started collecting a flat $1 fee for a pack of three, keeping the change. It was a seller's market, given the still-strict sexual mores of the early 1960s. So I started making a commission -- totalling maybe two bucks a night -- and Leiter's started to do a brisk business in condoms.
One slow summer evening, after we had closed the doors, Lionel Leiter noticed me ringing up my sales, putting cash in the till and making change. He asked me what was going on -- more amused than anything, because I think he knew exactly what was going on. I told him about the sales, and about how so many guys were ashamed to come in and buy them in front of other customers -- the reason for my little sideline trade. Lionel considered this for a moment, nodded, shook his head, sighed and said, "Well, carry on. Let's hope it keeps 'em out of trouble."
I suspect it made a big difference in some lives. I hope so, anyway.
Cambrian school district school teachers got together for pizza in May this year. Stuft Pizza in Los Gatos host the event.  How many of you learned the basics from these educators?
<![if !vml]>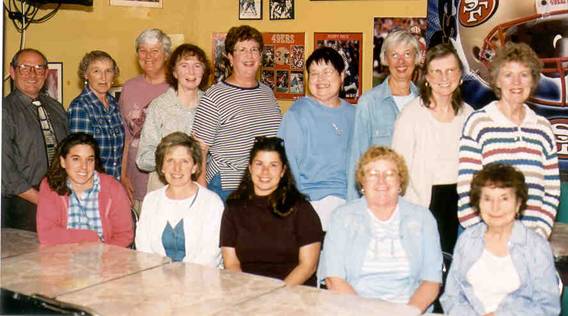 <![endif]>
Front from left: Becky Golitz – Bagby, Pauline Golitz – Cambrian and Bagby, Susan Piuk – Bagby, Sandy Kegley, Mary Odell – Metzler and Bohnett, Back row from left: Keith Imhoff – Bagby, Judy Long Botkins Palicio – Metzler and Bagby, Charlene Mudge Henley – Metzler, Norma Rose – Cambrian, Metzler and Bagby, Jan Bassetti Gleason – Cambrian and Bagby, Sharon Pelley – Metzler and Sartorette, Marion Jordan – Cambrian, Bagby and Bohnett, Sharon Burns Wittrock – Bagby, Marlene Vaugh Gottheiner – Steindorf and Bagby
Once upon a time…
<![if !vml]>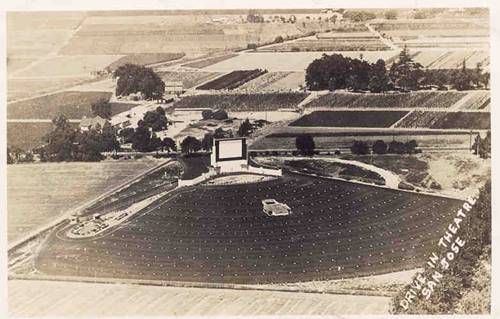 <![endif]>
Surrounded by orchards is San Jose's first drive-in.  Opened in 1946 under the simple name of "Drive-In Theatre" it later became "San Jose Auto Movie."  It closed in 1979 after a few years of showing adult movies.  Post card from the collection of Scott Rose ('74). 
End Remarks
Cougars' Tales is interested in your Camden and Cambrian Park story ideas; please contact the editor at trose01@telis.org. The editor is also looking for photographs of Camden High and early photos of the Cambrian Park area. Especially sought after are pictures of the burger joint across the street from Camden that closed in the mid-sixties and the trampolines that operated at Cambrian Plaza in the sixties. Special thanks go out to Ric Bretschneider ('74) for his help putting this issue on the web. Thanks to John Wiley ('66) for creating the Camden web site and mailing list, and Ken Rush ('72) and Dan Carpenter ('78) for running the Camden mailing list. All articles and recent photographs by Tom Rose unless otherwise accredited.